Orbita Sparta Bold 1 and 2 watch winders
Posted on 9 September 2021 at 10:29 AM
A watch winder is the most popular accessory for the watch collector, but also for those who own only one or more automatic watches. There are various brands in the field of high-quality watch winders that do not require any explanation for the real connoisseur. Orbita is an American brand that certainly falls under this heading. The brand is therefore a household name in the US and that is not without reason.
Orbita is a very innovative brand that uses the most modern techniques and even regularly leads the way. The brand already has several patents to its name. The most famous of these is the so-called 'Rotorwind System', which was developed by Orbita itself. The watch winders equipped with this system provide the winding of automatic watches by gently shaking the watch. The previously existing system is also offered by Orbita under the name 'Programmable System'. This system provides automatic watches through rotation.
Orbita watch winders have a traditional and classic design. The brand offers a lot of diversity in terms of capacity, among other things. They offer watch winders for 1 or 2 watches, but also beautiful wooden cabinets which are suitable for the real collector. The collection is certainly diverse in terms of use of materials. The cabinets, which are made of particularly beautiful Italian wood, exude a sense of luxury and will certainly appeal to the collector. But there are also the smaller models with a more simple design which are made of plastic. These watch winders of course offer the very high Orbita quality, but due to the simple design they are also affordable for those with a smaller budget.
The well-known Swiss motors are used for the Orbita watch winders. The quality of these motors is known worldwide. Not only are these motors very powerful and reliable, they are also energy efficient and extremely quiet to use. With this motor, a very solid basis is therefore chosen for the Orbita watch winders. Whether you choose one of the luxury Avanti models or the smaller Sparta models at an extra attractive price, the quality of the watch winder remains excellent. Orbita also uses special flexible watch pads. Because the watches are attached to these soft pads, you don't have to worry about damage or scratches on your watches. These flexible pads are suitable for almost all automatic watches. However, if you have very small watches, it is also possible to order extra small cushions. On the cushions you will find the Orbita logo, which gives an extra feeling of luxury.
In this article we would like to explain the Orbita Sparta models in more detail. These models are suitable for winding 1 or 2 automatic watches. As mentioned before, they are made of aluminum, which makes the watch winders sturdy and affordable at the same time. The big advantage of these watch winders is that they have a compact design. In addition, they operate on batteries. This combination of properties means that they can also be easily taken to the office or on a trip, for example. Placing it in a safe is also a good option in this way. Because the watch winders are so quiet in use, you can also place them with confidence in, for example, your workplace or in your bedroom, without having to worry about annoying noises.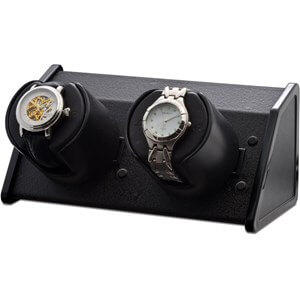 We are happy to highlight two Orbita Sparta models for you, starting with the Orbita Sparta Bold 1 Black W05521. This watch winder is suitable for 1 watch and is made in the color black. In addition to this color, there are several other colors available, such as red, blue and brown. This watch winder is of course suitable for every type and brand of automatic watch. With this watch winder you will be able to provide your watch with energy in a very effective way. This model also has an overwind protection so that your automatic watches are always safely supplied with energy. Furthermore, the watch winder is equipped with a long-life battery system and of course a high-quality Swiss motor. In other words, this watch winder offers everything you need to wind your watch correctly and that at a competitive price.
The second watch winder that we would like to bring to your attention is the Sparta Bold 2 Black W05527. This watch winder is ideal if you have 2 or 3 automatic watches, because you can wind 2 watches at the same time. This watch winder is also equipped with a Swiss motor and an overwind protection. Here too we see the long-life battery system. Furthermore, the rotors are individually adjustable, so that each watch can be operated separately. This watch winder is also available in various other colors.
All Orbita Sparta Bold watch winders are delivered in sturdy packaging with a clear manual with a 2-year warranty. If you prefer a watch winder for 1 or 2 watches with a simple design of high quality, this is the right choice for you! The price/quality of these watch winders is excellent, so that you can also opt for high quality with a smaller budget.
Watchwinders.com is official dealer of Orbita. We have been this for over 10 years and we are the only one in the Netherlands. We have the most popular models in stock and available immediately. As a watch fan, we offer you excellent service, honest advice and competitive prices. Are you looking for a good watch winder with Swiss motors? Then definitely take a look at the Orbita watch winders.