Orbita Sparta Bold 2 Black W05527 watch winders
Posted on 22 November 2022 at 2:37 PM
Brands that produce high-quality watch winders can be found in Switzerland and Germany, among others. However, there are premium brands in this field all over the world, including in the United States. The Orbita brand was founded in 1996 by Chuck Agnoff and has built up a very good reputation over the years. Not only in the United States, but all over the world there are great admirers of this brand.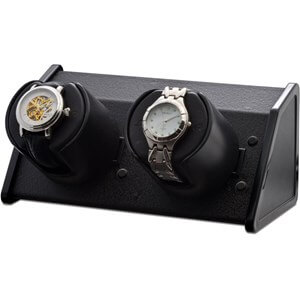 Orbita distinguishes itself by producing watch winders with a diverse appearance. The brand offers beautiful wooden cabinets for the real collector. In addition, you will also find more compact watch winder models at Orbita that are suitable for winding 1 or 2 watches at the same time. Orbita has also managed to put several patents to its name and can therefore call itself a pioneer in the watch industry. For example, the brand has developed the so-called 'Rotorwind System'. This system ensures the excitement of your watches by gently shaking them. This is a completely different technique from the more standard way of arousal through rotation. However, Orbita also offers watch winders that function in this way, under the name 'Programmable System'.
Orbita attaches great importance to the high quality of their products. The greatest possible care is therefore taken to manufacture each individual part of the watch winders. In addition, Orbita chooses to only work with high-quality materials, such as sustainable types of leather, carbon and reinforcing lacquer that is applied in several layers. This is clearly visible in the designs of the brand, which exude class and style. With a watch winder from Orbita you always choose a real eye-catcher that does justice to your watch or watches. Orbita also opts for the best of the best in the base. The watch winders of the brand are all equipped with Swiss made motors, so you can always be sure that you can rely on your Orbita watch winder. When you place your watch in an Orbita watch winder, it is always well protected. The brand uses special watch cushions, which are made of a kind of foam. These cushions are very soft, so that you prevent damage when placing the watch. The cushions are suitable for almost every automatic watch. However, if you own very small watches, it is possible to order special smaller watch cushions. The watch cushions feature the Orbita logo, which further emphasizes the luxury of this brand. The large models of watch winders from the Orbita collection are also equipped with a glass door, which ensures that you can also protect your watches against various harmful external influences, such as moisture, dirt and condensation.
We would like to tell you more about a specific watch winder model from the Orbita collection, namely the Orbita Sparta Bold 2 Black W05527. This watch winder is suitable for winding 2 automatic watches at the same time, making it ideal if you own 2 or 3 automatic watches. The watch winder has a compact design and is made of plastic, making it light in weight. This makes the watch winder easy to move or take with you to the office or on a trip. The watch winder also works on batteries, which makes placing it in a safe also a good option. Of course, this watch winder is equipped with a Swiss motor, which makes it extremely reliable. Moreover, they are energy efficient and quiet in use. So you don't have to be afraid of disturbing noises during the winding process, so you can also put the watch winder in the bedroom, for example. This watch winder is suitable for all types and brands of automatic watches. The rotors are also individually adjustable, so you can offer every watch the most ideal way of winding. The watch winder offers the programs CW, CC and Alt and an overwind protection. This watch winder is entirely executed in the color black, but if desired also available in various other colors such as blue, red and green.
With the Orbita Sparta Bold 2 Black W05527 you choose a top quality watch winder with which you can offer your automatic watches the best. This way you no longer have to worry about your watches stopping, so you have to set your watches again and again. Moreover, this extends the life of your watches, because the watch winder ensures a good oil distribution in the watches. Moreover, with this watch winder you immediately have a safe storage place for your watches, so that you do not get scratches or other damage on your watches.
You can find the Orbita Sparta Bold 2 Black W05527 and several other high-end watch winders from Orbita in our webshop. When you order an Orbita watch winder from us, you can do so with confidence. As an official dealer of Orbita, we supply these watch winders with a 2-year warranty and a clear manual in a sturdy packaging. Moreover, we are happy to assist you with advice and assistance where necessary.