Orbita Sparta Bold 2 Blue W05532 watch winder
Posted on 14 March 2023 at 3:08 PM
Are you the proud owner of 2 or 3 automatic watches and looking for a suitable watch winder? And are you looking for the combination of a simply designed top quality watch winder at an attractive price? Then read on!
Various renowned brands not only offer very luxurious looking watch winders, but also watch winders for those who want the best for their automatic watches, but do not want to pay the top price for it. A good example of a brand that offers watch winders with high-quality technology at a competitive price is the Orbita brand. Orbita comes from the United States and can be called an absolute concept there. The brand attaches great importance to quality, development and innovation and has therefore been able to put several patents to its name over the years. For example, Orbita offers the 'Rotorwind System' that they developed themselves, which provides automatic watches with the necessary energy by gently shaking the watch. In addition, the brand also offers the more calibrated way of excitement, through rotation. These Orbita watch winders are referred to as the so-called 'programmable system'.
The technology behind a watch winder is of great importance for a safe and efficient way of winding your automatic watches. In addition, the Swiss motors as the basis of the watch winder are very well known worldwide. That has several reasons. In the first place, these motors are powerful enough to wind any type and brand of automatic watches. Secondly, these engines have proven to be very reliable and durable. In addition, they are also energy efficient and quiet in use. You can therefore place watch winders with these motors wherever you want, without having to be afraid of disturbing noises during the winding process. Orbita uses these high-end Swiss made motors. With a watch winder from Orbita equipped with Swiss made motors, you definitely choose the cream of the crop. Orbita offers an extensive collection of watch winders with options for watch winders for a single watch, but also watch winders that offer space for an entire collection of automatic watches. In this article we would like to pay more attention to the Orbita Sparta Bold 2 Blue W05532. This is a model from the Orbita collection with space for winding 2 automatic watches at the same time. The design is simple, which keeps the price attractive. However, this does not detract from the impeccable quality of this watch winder. The Orbita Sparta Bold 2 Blue W05532 is made of aluminium and comes in the color blue. However, the same model is also available in several other colors such as brown, red and green. The compact design of this watch winder ensures that it takes up little space. Moreover, this watch winder works on batteries (long-life battery system). In combination with the compact design, this makes this watch winder extremely suitable for placing in a safe.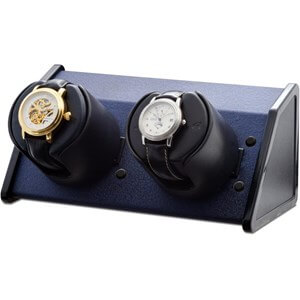 With Swiss motors in the base, the Orbita Sparta Bold 2 Blue W05532 provides every type and brand of automatic watch with the necessary energy. The rotors of this watch winder are individually adjustable, for an efficient and safe way of winding every watch. This model also offers the programs CW, CC and Alt. Of course, the overwind protection is also included, which ensures that your watches are protected against overvoltage. In short, a very complete watch winder model with the best technology in the world, at a reasonable price. With a watch winder of this caliber, you never have to worry about your watches stopping and your watches are always ready for use. In addition, the movement that the watch winder provides also immediately ensures an optimal distribution of the oil in the watch. This will definitely benefit the life of your automatic watches. With this model you also immediately have a safe storage place for your watches. So you don't have to worry about scratches or other damage to your watches when you don't have them on your wrist. Orbita uses special watch cushions on which the automatic watches can be attached. These cushions are flexible and therefore suitable for almost any size automatic watch. However, if you own very small ladies' or men's watches, it is also possible to order special smaller watch cushions. These are provided with the Orbita logo, which gives an extra feeling of luxury.
You preferably buy a quality watch winder from an official dealer of the brand. This can guarantee the authenticity of the watch winder and also offers the best prices, the latest collections and the best service. We are an official dealer of Orbita and therefore offer an extensive range of Orbita watch winders in our webshop. Every Orbita watch winder is supplied by us with a 2-year warranty and a clear manual. You always order from us with a good feeling!