Paul Design Gentlemen 4+6 Black watch winder
Posted on 18 January 2023 at 2:20 PM
If you are looking for a watch winder that is equipped with the most modern technology, but is also affordable at the same time, then this is the article for you! When choosing a high-quality watch winder, several things play a role. A good watch winder is made of high-quality materials in which the eye of the expert plays an important role.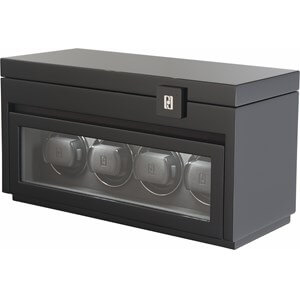 In addition, a suitable watch winder must of course be reliable and therefore equipped with motors of excellent quality. These form the basis of the watch winder and are therefore very important. These motors will therefore have to last a long time and be 100% reliable. In addition, they must be powerful enough to wind any type and/or brand of automatic watch without any problems. Finally, high-quality motors do their work in silence to keep the comfort of use optimal. When the basis of the watch winder is good and quality materials have been used, these are already important reasons to opt for a watch winder.
In addition, the eye naturally also wants something. A watch winder generally not only functions as a convenient way to provide automatic watches with the necessary energy, it also offers a safe and preferably stylish storage place. Certain watch winders are also perfectly suited to present your watches. The design of the watch winder is therefore very important for many enthusiasts and collectors of luxury watches. That is also a part that most watch winder brands pay a lot of attention to.
A special brand that originates from the United Kingdom is Paul Design. The man behind Paul Design is Paul Chen. Paul Chen has been interested in complicated mechanisms since childhood. He worked for a company that imported high-end watch winder brands and gained a lot of knowledge and experience in this area. This has resulted in the development of its own brand, in which quality and innovation are important pillars. Manufacturing high quality watch winders at an attractive price has always been Paul Chen's ambition.
The Paul Design collection therefore contains beautiful pieces of very good quality. Striking here is the use of modern technology and various nice extras, such as extra storage space or, for example, built-in LED lighting. A good example of a very complete watch winder from the Paul Design collection is the Paul Design Gentlemen 4+6 Black. This watch winder is intended for winding 4 automatic watches at the same time. In addition, this model also offers storage space for 6 extra watches, or of course any other jewelry. The watch winder is made of wood and has a black color on both the exterior and the interior. When your watches are wound, they are protected by the glass door against harmful external influences.
The Paul Design Gentlemen 4+6 Black is equipped with high-quality Japanese Mabuchi motors that are reliable and durable, as well as energy efficient and quiet. It does not matter which automatic watches you own, this watch winder effortlessly provides every brand and type of automatic watch with the necessary energy. The innovative touchscreen ensures that you can easily change the settings of the watch winder. For example, you can easily change the direction of rotation and the number of rotations per day. Of course it is possible to do this separately per rotor, so that each watch gets exactly the right way of winding. The Paul Design Gentlemen 4+6 Black also offers the programs CW, CC and Alt and an overwind protection. A nice extra is also the built-in LED lighting, which ensures that you can literally put your watches in the spotlight if desired. All in all, this watch winder is very complete in terms of possibilities and functionalities and offers a high degree of user comfort. The watch winder also comes with a remote control, which emphasizes this even more. Your automatic watches will always be ready for use with this watch winder. Moreover, you prevent unnecessary wear and damage by using this watch winder. The movements of the watch winder ensure correct oil distribution in the watches. In addition, this model offers a safe storage place, so that your watches do not get damaged when you are not wearing them.
As an official dealer of Paul Design, we offer a very extensive range of Paul Design watch winders in our webshop. The Paul Design Gentlemen 4+6 Black is also available from us. When you order this watch winder from us in the webshop, you will receive it at home with a 2-year warranty and a clear manual. This also applies to the other models of this exclusive brand. We ship all our watch winders worldwide using the services of DPD, PostNL and Fedex. You can pay safely and quickly with various secure payment methods, such as Ideal, PayPal, credit card or bank transfer. So view our extensive range of high-quality watch winders now and convince yourself!