The Benson Black Series Pro watch winders | Collection 2020
Posted on 15 November 2019 at 3:08 PM
Automatic watches are more popular than ever. Prestigious watch brands such as Breitling, Omega, IWC, Oris, Panarai and Rolex make very beautiful automatic watches. However, automatic watches also have disadvantages, for example that if you do not wear them they will come to a standstill. Difficult because you have to set the time again. A watch winder is the solution.
If you are looking for a watch winder with a luxury design, produced with quality materials and that has an attractive price, then the Benson watch winders are an absolute must. The Dutch brand Benson watch winders has various watch winder series. At Benson, a good price/quality ratio is paramount. Every Benson watch winder has a very low sound level and optimum ease of use, so you can easily supply your favorite automatic watches with energy. The watch winders are also suitable for any automatic watch, regardless of brand or type. The extra functionalities that Benson watch winders offers are extra storage options for other watches and jewelry, LED lighting and power winding.
The Benson Black Series Pro watch winders are among the largest watch winders in the collection. This very luxurious series is suitable for winding up larger numbers of automatic watches. The Benson Black Series Pro models are suitable for 12, 16, 20 and 24 watches. The Black Series Pro watch winders can be locked with a key. Of course, these Benson watch winders also have a USB port, soft fabric on the inside, LED lighting and two innovative touchscreens. With these touchscreens you can set the direction of rotation and the number of revolutions per day. The beautiful combination of wood and mineral glass gives the Benson Black Series Pro watch winders a very chic look. The Pro models are available in black and carbon, so there is a suitable option for every interior in the house or office.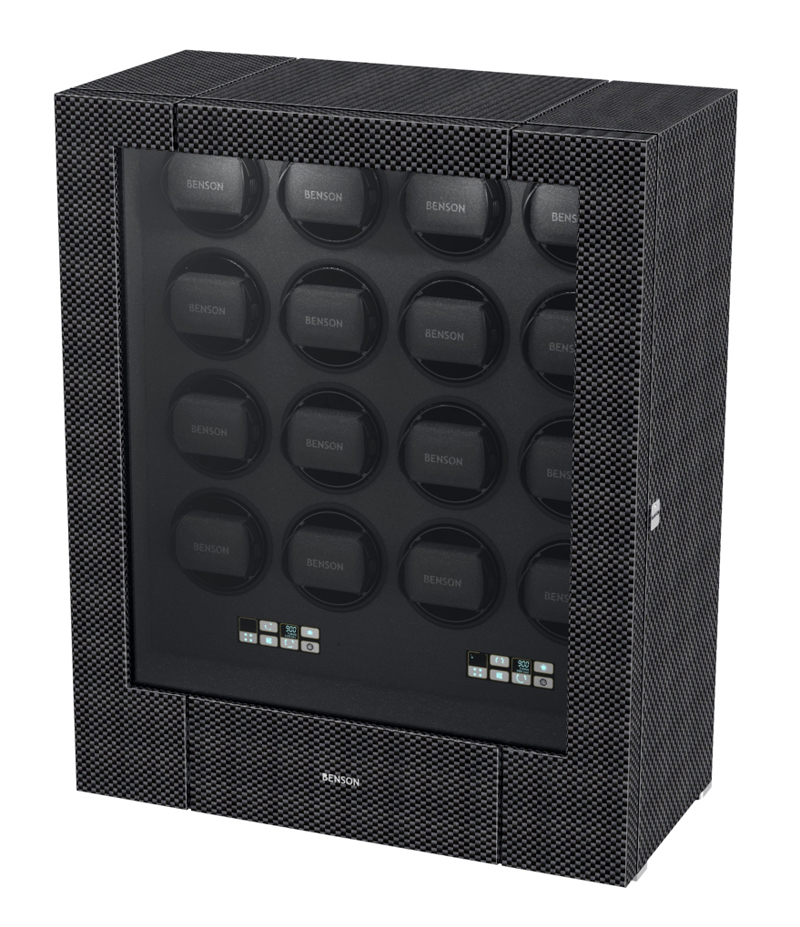 The Benson Black Series Pro watch winders are equipped with almost silent, high-quality Japanese engines that are also very durable. The flexible watch holders are suitable for any watch regardless of whether it is large or small. The glass door offers a perfect view of the revolving watches and the storage drawer makes it possible to store your other watches, jewelry or cufflinks together in the watch winder. The Benson Black Series Pro watch winders offer storage space for at least 10 other watches.
As an official dealer, every Benson Black Series Pro watch winder comes with a two-year warranty and includes a manual and adapter.