The new Paul Design Gentlemen watch winders
Posted on 4 April 2020 at 10:40 AM
Paul Design, a watch winder brand from Great Britain, has become very popular in a few years. The brand manufactures high-quality watch winders at attractive prices. This combination is interesting for lovers of automatic watches. The new Paul Design Gentlemen watch winders wind all automatic watches, regardless of brand or model, professionally and safely. The nice thing about these watch winders is that they also look very beautiful. The designs are of a high level!
The Paul Design Gentlemen watch winders are suitable for 4, 6, 8 and 12 automatic watches. The Japanese motors can be operated individually via the modern touchscreen. Of course you can quickly and easily set the direction of rotation and the number of TPD (turns per day) via the touchscreen. You can run a Breitling watch clockwise at 600 TPD and an IWC watch counterclockwise at 900 TPD. With this watch winder you have all options.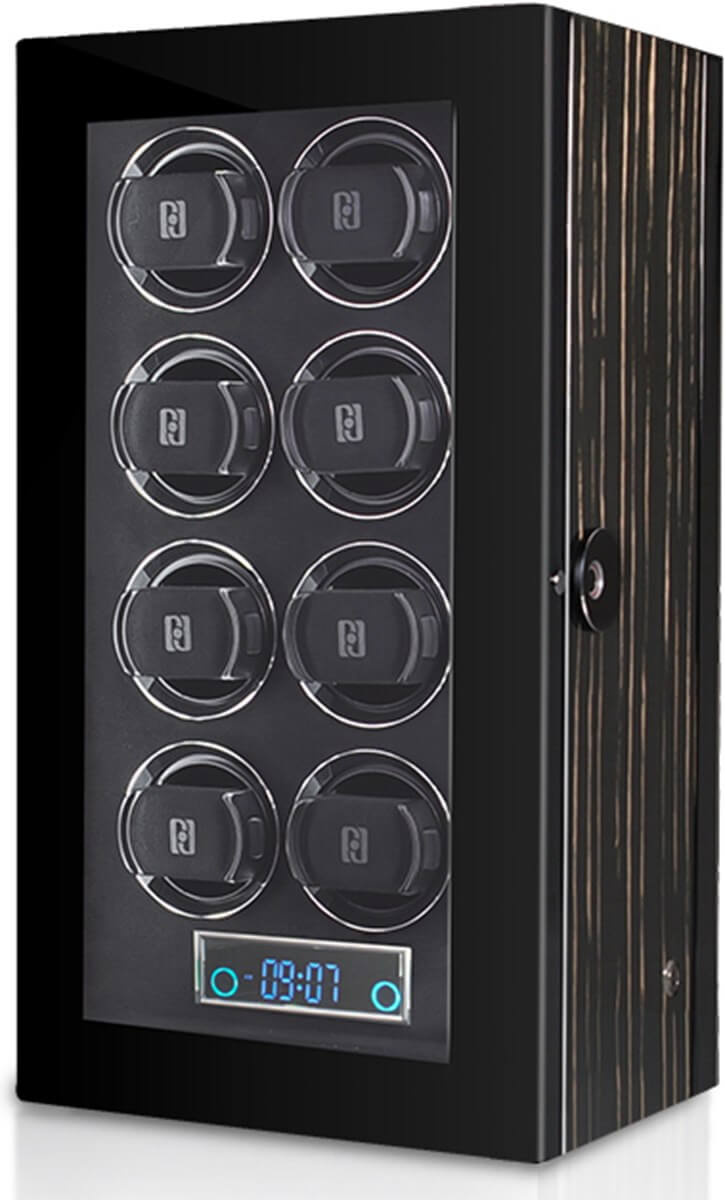 The Paul Design Gentlemen watch winders are made of wood and available in 3 styles; black shadow, black apricot and macassar. These styles give the watch winders a luxurious and professional look. The watch winders have built-in LED lighting so that all watches are beautifully lit during winding. This is a very special view in the evening or at night.
The Paul Design Gentlemen watch winders have a nice extra; a fingerprint system on the side of the case with which the watch winder can be opened. The door opens by placing a finger on the sensor. This ensures safety and convenience when you want to place or remove a watch in the watch winder.
With the remote control you can activate any setting remotely. This makes the Paul Design Gentlemen watch winders extremely functional in use.
Each watch holder is adjustable and flexible, making it suitable for all types of watches. Small or large watches can easily be attached to the watch holder. You then click the watch holder into place so that the watch cannot fall out of the watch winder.
The beautifully designed Paul Design Gentlemen 6 Black Shadow is our favorite watch winder in this series. The Gentlemen 6 Black Shadow is not only very beautiful in design and use of materials, it also offers all options to wind an automatic watch well. The wooden case gives the watch winder a natural and sustainable look, so the watch winder fits into any interior.
Are you looking for a luxury watch winder to wind your automatic watches well? Then a Paul Design Gentlemen watch winder is an excellent option! We are an official dealer of Paul Design and offer delivery from stock, worldwide shipping and transparent warranty. We pack every Paul Design watch winder very well and of course a manual and 2 year warranty are included.
The new Paul Design Gentlemen watchwinders are available from 990.00 euros (Paul Design Gentlemen 4 watchwinders) and run up to 1980.00 euros (Paul Design Gentlemen 12 watchwinders).