Watch winders for beginners
Posted on 1 August 2020 at 7:51 AM
Do you have one or only a few automatic watches but do you want to keep them running on time? Then a Benson Compact watch winder is an excellent choice. The Dutch brand Benson produces 3 lines of watch winders, the Compact series, Smart-Tech II series and the Black series. These series rise in price, luxury and finish level.
The Compact series is a collection of watch winders for the novice watch collector or those who have one or two automatic watches and want to wind them to prevent wear and standstill. The Smart-Tech II series has a slightly more luxurious design and is available for 2, 4 and 6 watches. You can also store extra watches in the watch winder. The Black series are the most luxurious series by Benson. This collection contains very luxurious models for 2, 4, 6, 8, 12, 16, 20 and even 24 automatic watches.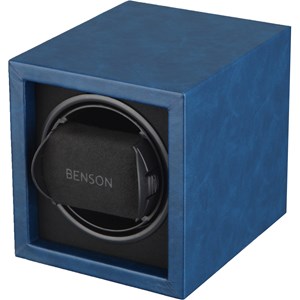 Benson Compact watch winders
The Compact series watch winders from Benson can best be described as very complete watch winders that wind every automatic watch without problems for a very affordable price. The design is simple yet elegant and compact. The watch winder is set via a touchscreen and contains all options in terms of rotation (clockwise, counter-clockwise and alternate) and TPD (turns per day). This allows you to wind literally any watch, regardless of whether it is from a watch brand such as Rolex, Omega, Tag Heuer or Oris.
The watch winder has flexible watch holders on which you can place small but also larger watches. Then click the holder with the watch on it in the watch winder. This ensures that your watch always spins safely in the watch winder without chance of it falling out. You see this sometimes with watch winders with cushions as watch holders.
Different models and colors
The nice thing about the Benson Compact watch winders is that they are suitable for winding one or two automatic watches and are available in many different colors. You can choose a black watch winder, but also a variant in dark or light brown. But even more fun are the attractive prices. Where an average good quality watch winder can easily cost hundreds of euros, these Benson Compact watch winders are available from 169.00 euros.
What do you get for this price? Very much, a good watch winder with reliable Japanese motors, modern operation via a touchscreen, LED lighting and a solid and flexible watch holder on which you can quickly and easily attach any type of watch.
Every Benson Compact watch winder comes with a 2-year warranty, manual and adapter. Immediately ready to wind your automatic watches.