Benson Black Series 4.16.B watch winder
Posted on 9 February 2023 at 4:45 PM
Automatic watches possess a charm that appeals to many lovers of luxury watches. Finally, in a watch with an automatic movement, the authentic functioning of the clock and the part of the watchmaker comes into its own. An automatic watch only needs movement to function, no battery is involved. Because you have your watch on your wrist, you automatically provide the movement that is necessary for the functioning of the watch.
Of course there are also times when you don't wear your watch, such as at night. Moreover, if you own several automatic watches, you will probably want to be able to alternate them. At these times, the automatic watch will not get any movement and you run the risk of your watch standing still. This will require you to reset your watch. In addition, downtime can result in inaccuracies in time and date display. Fortunately, this can all be prevented by purchasing a good watch winder. It is therefore not for nothing that the watch winder is seen as an indispensable accessory for the enthusiast or collector of automatic watches. These are available for winding a single watch, but there are also watch winders that are suitable for winding several watches at the same time.
In addition to the Swiss and German watch winders, we also find quality in this area in the Netherlands. The Dutch brand Benson stands for innovation, style and high-quality technology. In addition, the brand offers a very good price/quality ratio and there are various watch winders within the collection with nice extras. The Benson Black Series 4.16.B is a good example of such a watch winder. This model is suitable for winding 4 automatic watches at the same time. In addition, the watch winder also offers a safe storage place for another 3 watches. This makes this a model that is very suitable for the true collector of luxury watches. Of course you can also choose to use the storage space for other jewelry or cufflinks, for example. The watch winder can be closed at the front with the mineral glass door. This ensures that your watches are protected against harmful external influences. The storage space is also lockable, it is equipped with a luxurious soft-close lid. The watch winder is made of high-quality wood and comes in the color black. The sublime finish is clearly reflected in the 12 layers of paint and protective lacquer that the watch winder is provided with. The watch winder is also perfectly finished on the inside, here with a special soft velvet inlay. This ensures optimal protection of your watches against scratches and other damage.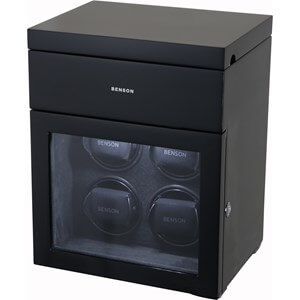 The basis of the watch winder is extremely solid and reliable, Benson has used Japanese motors that are very well known. They are powerful enough to wind the heaviest automatic watch and are also energy efficient and quiet in use. The watch winder can be set per watch separately, in terms of direction of rotation and the number of rotations per day. In this way, each watch gets a perfectly adjusted winding mode. Setting up is very easy using the innovative touch screen. Benson uses flexible watch holders, so that almost any size watch can be easily placed in the holders. This combination of features makes the Benson Black Series 4.16.B suitable for any type and brand of automatic watch. Furthermore, the watch winder is equipped with built-in LED lighting. When you choose to enable it, you can actually put your watches in the spotlight. The Benson Black Series 4.16.B is equipped with the programs CW, CC and Alt and an overwind protection. In addition, with this model you have access to a handy power winding function. With this you can choose to provide your watches with the necessary energy in a short time. That is of course very useful when you don't have that much time. Finally, the watch winder is equipped with a USB connection. All in all, this watch winder from Benson is a very luxurious model with a stylish appearance, which is equipped with all imaginable conveniences. The user comfort of this watch winder is therefore very good. Moreover, with this watch winder you choose a model with an extremely good price/quality ratio, so that you purchase a very high-quality and luxurious watch winder at an attractive price.
The Benson Black Series 4.16.B can be viewed in our webshop, by means of clear photos and a video. This gives you a very complete picture of this watch winder. If you choose to order this watch winder from us, you will receive it at home with an adapter and certificate. In addition, the watch winder comes with a 2-year warranty and of course a clear manual. You can pay with us with various secure payment methods, such as credit card, Paypal, Ideal and a bank transfer. So you always order with us with peace of mind!