Benson Black Series Safe 6.22.B watch winder safe
Posted on 3 February 2023 at 3:13 PM
A good watch winder is absolutely indispensable if you own one or more automatic watches. After all, this ensures that your watches are provided with the necessary energy when they are not worn. This way you prevent your watches from standing still. A watch winder safe is the superlative of this. Not only does it offer an efficient and safe way of winding your automatic watches, you can also store your watches in an optimally safe way. This means that it is not necessary to place your watch winder in a safe, because the watch winder safe offers these two functions in one. There are several beautiful brands that offer quality. The Dutch brand Benson is one of them. In addition to an impressive collection of high-quality watch winders, we also find 2 different watch winder safes in the Benson collection that are definitely worth a look. We would like to highlight a stylish and safe watch winder safe from this collection for you.
The Benson Black Series Safe 6.22.B can be called a star. This watch winder safe naturally offers a safe storage place for your automatic watches in combination with an effective winding method. This watch winder safe also offers space for winding and storing 6 automatic watches, making it suitable for the avid collector. It is made of stainless steel and therefore extremely robust and solid. The bolts to anchor the safe in the wall are included. This model is also available in black and is therefore suitable for almost any interior. Due to the compact design, not much space is needed to place this safe. The safe can be closed extremely securely with the special fingerprint lock. This way you can be sure that you are the only one who can get to your watches.
The Benson Black Series Safe 6.22.B with high-quality Japanese motors, ensures that your watches can be supplied with energy in the most efficient and safe way. Because these motors are very reliable, you can be sure that you can always count on your watch winder. Moreover, these motors are both energy-efficient and low-noise, which ensures optimal user comfort. The rotors of the watch winder are individually adjustable. You can set the direction of rotation and the number of revolutions per day for each watch separately. Due to the special and modern touchscreen display, setting the watch winder is easy and fast. The watches can be wound in this watch winder with the programs CW, CC and Alt. In addition, an overwind protection is also provided, which ensures that your watches are protected against overvoltage. Because the watch winder also offers a special power winding function, you can also provide your watches with the necessary energy in a short time if desired. Finally, the energy supply of this watch winder runs through mains power with the help of an adapter.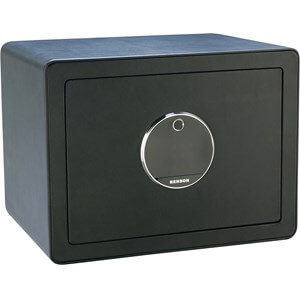 With the Benson Black Series Safe 6.22.B you are therefore fully equipped and you choose not only a very high quality watch winder in combination with a stylish appearance, but also the safest way to store your watches. In addition, Benson is known for offering a very good price/quality ratio with their collection of watch winders. This certainly also applies to the Benson Black Series Safe 6.22.B, so that you get a lot of value for your money with the purchase of this watch winder safe. Your watches are therefore always ready for use and also receive the best care. A good watch winder like this also ensures that the oil in your watches is optimally distributed, which benefits the lifespan of your pride.
You will find the entire collection of watch winders and watch winder safes from Benson in our webshop, including the Benson Black Series Safe 6.22.B. If you choose to order this watch winder safe from us, you will receive it at home with an adapter, clear manual and the bolts for anchoring. Moreover, this safe comes with a 2-year warranty, so you can place your order with peace of mind. If you have any questions or would like to receive appropriate advice, you can of course also contact us. We have gained extensive knowledge and experience in the field of both the watch winder and the automatic watch. We are therefore certainly able to assist you with advice and action when necessary.
View the Benson Black Series Safe 6.22.B now in our webshop and see all the advantages of this watch winder safe at a glance! Complete with clear photos you get a complete picture of this watch winder safe and all possibilities. Payment is possible with us with various secure payment methods. You can pay with us by credit card, Paypal, Ideal or bank transfer. In addition, worldwide shipping is possible. We use the services of DPD, PostNL and Fedex for this.