Benson Black Series 6.16.B watch winder
Posted on 26 October 2021 at 1:42 PM
The Dutch brand Benson is now the benchmark in the field of watch winders. This watch accessory has become more and more important in the collection of the watch collector. But not only watch collectors use a watch winder. This watch accessory is increasingly used by enthusiasts with 1 or 2 automatic watches. Simply because the use of this watch accessory is not only convenient and easy, but above all because it benefits the durability and preservation of automatic watches.
Suppose you have several automatic watches, then a few are always stationary because you can only wear one. You want to prevent this because standing still means going backwards. In this article we focus on a watch winder for 6 watches with an attractive price.
In terms of innovation, technology and quality, the modern Benson brand offers everything the true connoisseur wishes for in a watch winder. Benson is a brand from Dutch soil and has gained a lot of knowledge and experience over the years regarding automatic watches and the inextricably linked watch winder. Benson offers within the collection both watch winders that are suitable for winding one watch, and models that are suitable for multiple watches. With these possibilities in combination with the excellent price/quality ratio of the brand, Benson knows how to appeal to a wide audience.
One of the most luxurious models from the Benson collection comes from the Benson Black series. The models within this series offer an ultimate feeling of comfort and luxury, as well as various beautiful extra functionalities. These models are therefore extremely suitable if you are looking for more in a watch winder than just an effective winding.
The Benson Black Series 6.16.B watch winder is suitable for winding 6 automatic watches. However, this model offers an extra storage space for 5 other watches. Benson offers the possibility to store all your watches or any other jewelry neatly together. This storage space can be closed with a soft close lid for optimal protection of your watches and jewelry. Watches that are wound can also count on very good protection against damage and external influences. For example, you close the watch winder at the front with a luxurious glass door and the inside is equipped with a special soft velvet. The watch winder is made of wood and comes in the color black, which makes it suitable for almost any interior. Furthermore, the watch winder is provided with no less than 12 layers of paint and a protective lacquer layer on the outside, so with this high quality you choose an extremely durable product.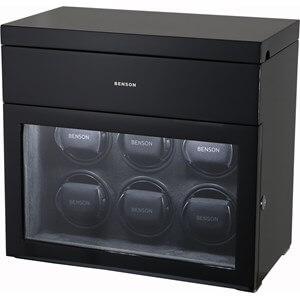 In terms of technology, Benson offers all kind of innovations in the Benson Black Series 6.16.B watch winder. For example, the watch winder is operated via a very modern touchscreen. With the help of this touchscreen you can easily set the direction of rotation and the number of rotations per day. You can wind each watch individually, exactly to the requirements of the watch. In this way you can be sure that each watch is operated according to its needs.
In addition, the Benson Black Series 6.16.B watch winder offers built-in LED lighting, so that you always have a good view of your beloved watch collection. With the speed winding function you can easily provide your watches with the necessary energy in a short time. This is of course ideal if you don't have that much time. This watch winder is equipped with 6 quality motors of Japanese origin. These motors are known, among other things, to be energy efficient in use. In addition, they are able to perform their work almost silently. This feature makes it possible to place the watch winder at your workplace or in your bedroom, for example, without having to be afraid of disturbing noises. Finally, this watch winder is equipped with an overwind protection and USB connection. In short, with the Benson Black Series 6.16.B watch winder you choose an extremely luxurious watch accessory with all the trimmings. Moreover, you do not pay the main price for this, which of course makes this model extra attractive.
Within the Benson Black Series, in addition to the Benson Black Series 6.16.B, there is also a choice for models that offer space for, for example, 2, 4 or 8 watches. There is therefore a suitable Benson watch winder for every enthusiast and/or collector. Whether you choose a model from the luxurious Benson Black Series or one from one of the other series of this exceptional brand, with a watch winder from Benson you choose quality, reliability and durability.
In addition to the models with quality Japanese motors, Benson now also offers models with Swiss motors. Take a look at the Swiss Series collection. In addition to the Swiss quality of the motors, an additional advantage is that these watch winders are fully assembled in the Netherlands. So quality at its best!
Every Benson watch winder will of course be sent firmly packed, together with an adapter, manual and certificate. You also receive a 2-year warranty on the Benson Black Series watch winders. You can order these watch winders and many others easily, safely and quickly in our webshop. So place your order now so that you can quickly enjoy your new purchase and never stop your automatic watches unnecessarily!