Paul Design Gentlemen 12 watch winder
Posted on 2 November 2021 at 1:33 PM
A beautiful watch winder for winding 12 automatic watches is almost necessary if you have several automatic watches and want to take good care of them. The primary advantage is of course that you ensure that your automatic watches run on time. Standstill of your automatic watches is definitely a thing of the past by using a watch winder.
You cannot buy a watch winder for 12 watches without preparation. Not only is it a hefty expense, but you also want the best for your watches. It is therefore important that you list your wishes and look at different brands. This allows you to make a good comparison and choose the watch winder that best suits you and your automatic watches.
In this article we discuss a watch winder from Paul Design. This model comes from the luxurious Gentlemen series. These models actually offer everything you need to safely wind your automatic watches, regardless of brand and model.
Paul Design is a brand from the United Kingdom. This brand is characterized by solid technology, luxurious materials and a beautiful finish. Paul Design offers watch winders for enthusiasts with 2, 3 or 4 automatic watches, but also for collectors with a larger watch collection. Characteristic of the watch winders of this brand is that the price/quality ratio is very good. This means that with a Paul Design watch winder you opt for 'value for money'.
With a watch winder from Paul Design you also opt for a classic stylish design with a traditional look. For the manufacture of its watch accessories, Paul Design only chooses high-quality materials such as stainless steel, glass and wood. The finishing of the models is also taken care of down to the last detail. Paul Design therefore goes for nothing but perfection.
Within the Paul Design collection we find the Paul Design Gentlemen 12 watch winders. These watch winders are ideal for winding 12 automatic watches. These models are designed in such a way that they attract all eyes and do justice to every watch collection. But more importantly, they wind any automatic watch, whether it's a Breitling, Rolex, Omega, or Tag Heuer.
The Paul Design Gentlemen 12 watch winders have a luxurious look and are made of particularly beautiful wood. There are 3 variants with a choice of the colors Black Apricot, Black Shadow and Macassar. With each of these color variations, the wood grain is visible, which gives the watch winders a completely individual and unique look. The watch winders are lockable by means of the luxurious glass door with fingerprint technology. This prevents dirt, dust and condensation from getting to your watches, among other things.
However, the fingerprint lock is not the only piece of high-quality technology that Paul Design uses. For example, there is also the modern touchscreen. This makes it possible to set the rotors individually with regard to the direction of rotation and the number of rotations per day. Because each rotor can be set individually, you can be sure that each of your watches is wound in exactly the right way. The Paul Design Gentlemen 12 watch winders are also equipped with built-in LED lighting. This feature ensures that you have an extra good view of your watches, even during the winding process. You use your watch winder not only to provide your watches with energy, but also as a safe storage place and as a display for your collection.
Paul Design uses Japanese motors, including the Gentlemen 12 watch winders. These motors offer a particularly high user comfort because they are both virtually quiet in use and energy-efficient. In addition, they are known for being very reliable and solid. With the models from the Gentlemen 12 series you have access to the three directions of rotation (clockwise, counter-clockwise and alternately in both directions) and an overwind protection. In addition, a remote control is also included with the watch winders, with which you can change each setting remotely as desired.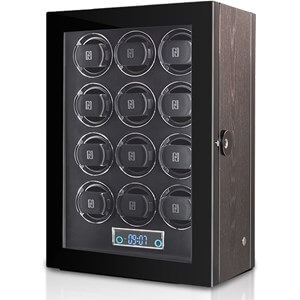 In the technical field, Paul Design has clearly left nothing to chance. The watch winders are therefore very complete and have everything to provide your watches with energy in the most effective and efficient way. Also with regard to the design and appearance of the watch winders, you choose the absolute top with a copy of Paul Design. The price, on the other hand, is very attractive. Especially when you compare it with brands that offer similar watch winders. This means that there are few brands that can compete with a brand like Paul Design. The brand knows how to appeal to a wide audience with these watch winders. Paul Design is also an excellent choice for the collector who prefers a watch winder that is equipped with the most modern technology and a stylish appearance.
When you decide to purchase a watch winder from Paul Design, we advise you to do this at an official dealer. As an official dealer of Paul Design, we are able to offer you the most current collections and the best prices. Moreover, we can always assist you with advice and assistance where necessary and offer the right service. With more than 15 years of experience in the field of both watch winders and watches, we can certainly be of service to you.
Every Paul Design watch winder is supplied by us with a clear manual and a 2-year warranty. Of course we ensure a carefully packed package and we ship it worldwide safely and quickly with DPD, Fedex or PostNL. So don't wait any longer and choose your favorite Paul Design watch winder from our extensive range!