Heisse and Sohne Meranto watch winders
Posted on 8 November 2021 at 3:50 PM
Germany is known for its quality in the field of watches and watch winders. A well-known brand is Heisse & Söhne. This brand produces high-quality watch accessories. As an official dealer of this brand, we have been selling this brand to our full satisfaction for over 12 years. Heisse & Söhne watch winders are distinguished by their quality, beautiful designs and good functionality, making them suitable for providing any automatic watch with energy in the right way.
Heisse & Söhne recently presented its latest series of watch winders, the Meranto models. Let's take a closer look at this series and highlight a few models so you have a better idea of ??what these watch accessories have to offer.
For those who are already familiar with the Heisse & Söhne brand, the addition of the brand's latest series will have been great news. For those enthusiasts who are not yet familiar with this German brand, it is definitely time to get to know this brand better. A watch winder brand such as Heisse & Söhne is characterized and distinguished by the very good price/quality ratio, the high quality and the luxurious appearance of the watch winders. The brand offers watch winders for enthusiasts with a single or a few watches, but the real collector in particular can choose from a wide range of chic watch winders for multiple automatic watches. The latest series from Heisse & Söhne, the Meranto series, once again offers luxury watch winders for the watch collector. In this article we will highlight two models from this new series.
Heisse & Söhne only uses high-quality materials for the production of their watch winders, the finish is also perfect. It is not without reason that the brand chooses to extensively test the watch winders again before delivery on the basis of a checklist after the very careful production. At Heisse & Söhne, they only go for perfection. Every design has been carefully thought out. The designs of Heisse & Söhne therefore not only offer the best in terms of quality and technology. Also in terms of appearance, the watch winders from Heisse & Söhne are a wonderful choice, if you go for a watch winder with class and style. The beautiful wooden cabinets of the watch winders are made in Germany and make these watch winders a real eye-catcher.
Returning to the new Heisse & Söhne Meranto watch winders, we would like to discuss two new models from this series. We start with Heisse & Söhne Meranto 70019-135.11 watch winder. This model is suitable for winding 8 watches. The wooden cabinet is finished in black and the interior is also black. This makes the watches extra eye-catching. The watch winder can be closed with a door with mineral glass. This protects your watches against external influences and prevents damage and unnecessary wear. The heart of this watch winder is formed by high-quality motors of Japanese origin. These motors are energy efficient and also quiet in use. You can place your watch winder in your bedroom or at your workplace without worry, without being disturbed by annoying noises. In addition to these two positive features, these motors are also very reliable and solid, so you can always count on your watch winder for perfect winding of your automatic watches.
Furthermore, the Heisse & Söhne Meranto Meranto 70019-135.11 watch winder offers a modern LCD screen. This allows you to easily change the settings for each watch separately, including the direction of rotation and the number of rotations per day. In this way you ensure that each watch individually receives the most optimal form of excitement. Because this watch winder is equipped with built-in LED lighting, you keep a good view of your watches at all times. In addition, the watch winder is also equipped with a sleep mode. With the help of this, you keep your watches just below the optimal level of excitement so that you can give them some peace of mind. In short, a special watch winder with a beautiful appearance, especially suitable for the collector.
A second model from the Meranto series is the Heisse & Söhne Meranto 70019-136.11 watch winder. This watch winder offers space for no less than 16 watches, with which the collector with a larger collection can store and wind his watches neatly and safely together. This watch winder is made in the color black. This applies to both the wooden exterior and the fabric interior. The watch winder is closed with a glass door. This watch winder is also equipped with Japanese motors. The LCD screen for operation is of course not missing here either. With this watch winder it is also possible to program each rotor separately. This watch winder is also suitable for any type and brand of automatic watch. The Heisse & Söhne Meranto 70019-136.11 watch winder also offers built-in LED lighting, so that your watch winder can not only serve as a safe storage place, but also as a display. All in all, an excellent choice for the true enthusiast with a larger collection.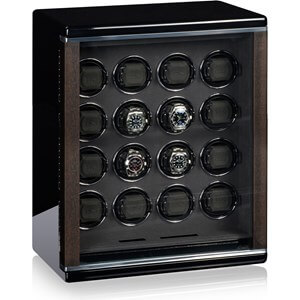 If you are looking for a watch winder with a luxurious appearance that is also very extensively equipped in the technical field, you have come to the right place at Heisse & Söhne. If you order a Heisse & Söhne watch winder from us in the webshop, you will receive it at home with a clear manual and a 2-year warranty.