Benson Black Series 6.16.WA Limited Edition watch winder
Posted on 7 September 2023 at 10:49 AM
As a lover of beautiful watches, you naturally want the best care for your Rolex, Tag Heuer, Breitling, IWC or Omega watch. You want them to last as long as possible and to stay in top condition for a long time. You can ensure this by being extra careful when storing your watches.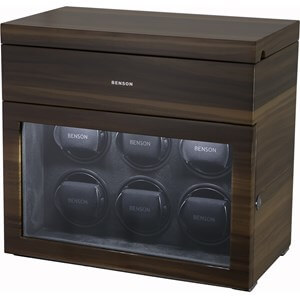 When you store your watches, you should preferably do this in a place with a soft surface to prevent scratches or other damage. A lockable storage space is also preferred, so you don't have to worry about harmful external influences, such as condensation and dirt.
With quartz and mechanical watches, a safe storage place goes a long way. However, an automatic watch also needs a bit of care in terms of proper winding. An automatic watch functions through movement, the movements of your wrist normally take care of this. If you want to store an automatic watch because it is not worn, it is best to do this in a watch winder. A high-quality watch winder not only offers a safe storage place for your automatic watch or watches, but also simulates the movements of your wrist. This allows you to wind your watches in a good watch winder. This provides the necessary movement, usually in the form of rotation.
There are many different options in the field of watch winders. There is also a big difference in quality. It is therefore important to separate the wheat from the chaff before purchasing a watch winder and to opt for quality. After all, you want an effective, but at the same time safe way of winding your watches.
In addition to the very cheap watch winders of not the best quality and the large watch winder brands with very expensive watch winders, there are a number of watch winder brands that are very strong in offering high quality watch winders at a competitive price. A good example of a watch winder brand that falls under this heading is the Benson brand. Benson is a Dutch brand, with the ambition to produce watch winders with high user comfort, a luxurious appearance and an efficient and safe way of winding. Almost every enthusiast and/or collector of automatic watches can go to the Benson collection, because it is not only very extensive, but also very varied. For example, the collection offers watch winders made of different materials, within different price ranges and watch winders with Japanese or Swiss made motors. A lot is also possible in terms of capacity.
In this article we would like to pay attention to a watch winder suitable for the real collector. This watch winder offers space for winding 6 automatic watches and is also equipped with a handy storage space for 5 other watches or any other jewellery. We are talking about the Benson Black Series 6.16.WA Limited Edition. This watch winder is handmade by the real craftsman. This model is made of wood and then provided with no less than 12 layers of paint and a protective layer of lacquer. This is also an extra special design from the Benson collection, because it is a limited edition. This watch winder has a walnut wood look, which gives it a very luxurious and stylish look. This model has a special soft velvet on the inside, with which your watches are optimally protected when you store them in the watch winder. The Benson Black Series 6.16.WA Limited Edition is also equipped with a glass door and built-in LED lighting. This combination of features ensures that you can keep your watches tightly closed, but at the same time keep an eye on them all day long. At the top, the watch winder is equipped with a luxurious soft close lid, with which the storage space can also be neatly closed. The watch winder is also equipped with Japanese motors. With motors of this caliber you can be sure of a safe and effective winding, which is also provided in an energy-efficient and quiet manner. The watch winder can be further set in terms of direction of rotation and the number of rotations per day. The watch winder is operated using the innovative touchscreen. This allows you to adjust the settings per watch individually, so that each watch gets the excitement it needs. In addition to the programs CW, CC and Alt, an overwind protection and a USB connection, this Benson model also offers a power winding function. This allows you to provide your watches with the necessary energy in a short time if desired.
In short, the Benson Black Series 6.16.WA Limited Edition is a watch winder that is not only very luxurious, but also very user-friendly. Moreover, this model has a very nice design, which will be an eye-catcher in any interior. Last but not least, this watch winder ensures perfect winding of your automatic watches, so you never have to worry about your watches standing still. Order this watch winder now from us in the webshop, and you will receive it at home with a 2-year warranty, adapter, manual and certificate.