Benson Compact Triple watch winder
Posted on 8 June 2022 at 11:13 AM
Are you a fan of automatic watches and do you own 3 or 4 automatic watches? Then we have great news for you! A watch winder is absolutely indispensable if you have automatic watches. This provides the energy for your automatic watches when you are not wearing them. This prevents standstill of your watches and also provides a good oil distribution in the watch movement. In addition, a good watch winder offers a safe place to store your watches. With all these properties, a suitable watch winder ensures maintenance and extends the life of your automatic watches.
All in all, a very good investment, especially if you are careful with your watches. There are many brands that produce watch winders with capacity for winding 3 automatic watches. Which watch winder do you choose? In the Netherlands we find the Benson brand, which attaches great importance to innovation and user comfort. In addition, Benson has the ambition to manufacture watch winders that are not only of extremely high quality but also affordable. The brand also offers watch winders with a luxurious appearance that are suitable for almost any interior.
In Benson's varied collection we find watch winders with a diverse capacity. For this article we focus today on the Benson Compact Triple watch winders. The watch winders from this series offer the option of winding 3 automatic watches at the same time. This model is also available with a capacity for winding 1 or 2 watches. In addition, characteristic of these watch winders is the compact and modern design of the watch winders. These watch winders are made of wood and are available in different colors. There is a choice of black, white, carbon and two shades of wood. The inside of the watch winders is made in the color black and provided with a soft fabric, to preserve your watches. Moreover, it is possible to close this watch winder using the glass door. This way you can see your watches at all times, but at the same time they are well protected against possible external influences. You can think of condensation, dirt or children's hands.
The basis of the Compact Triple watch winders is formed by Japanese motors of excellent quality. These motors effortlessly provide the excitement of every brand and type of automatic watch. In addition, Benson uses flexible watch holders as standard for their watch winders. These watch holders have the great advantage that almost any size watch can be clicked in without effort. The Compact Triple watch winders are also equipped with a modern touchscreen. With this you can easily and quickly set the watch winder. It is possible to do this per watch individually. This way you ensure that every watch gets exactly the right way of winding. You can set the number of revolutions for each watch and, for example, the direction of rotation. These watch winders offer the CW, CC and Alt programs and overwind protection. Moreover, with these models you have a special power winding function. This function makes it possible to wind your automatic watches in a short time.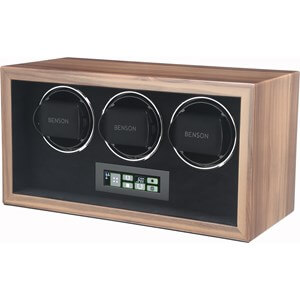 If you like to display your watches in a beautiful way, the Compact Triple watch winders are also an excellent choice. Not only does the luxurious look of these watch winders make your watches look extra nice, these models also have built-in LED lighting. When you choose to switch it on, you put your watches in the spotlight. They can be admired very well even in a darker room. This is an option that not all watch winder brands have to offer and makes Benson extra attractive for the real enthusiast. The energy supply of the Benson Compact Triple watch winders is via mains power. An adapter is therefore also included. Thanks to the durable Japanese motors, these watch winders are very energy-efficient.
In summary, a watch winder from the Benson Compact Triple series from Benson offers a compact design, high quality and durability. In addition, these watch accessories are very reliable, partly due to the solid base formed by Japanese engines. If you think the presentation of your watches is important, you are also in the right place with these models. The luxurious and stylish appearance, combined with the built-in LED lighting, make these watch winders a picture to look at.
You can order the Benson Compact Triple watch winders easily and safely in our webshop. We deliver this standard with a 2 year warranty and deliver worldwide with PostNL, DPD and Fedex. This way you can purchase the Dutch Benson Compact Triple watch winders anywhere. Do not wait any longer and view the Benson collection now in our webshop!