Benson Smart-Tech II 6.20 watch winder
Posted on 17 May 2021 at 3:52 PM
When a new appealing watch winder comes on the market, we would like to inform you via our blog. In this blog we write about brands, technology, innovations and specific models. It is of course interesting for every watch lover and collector in the field of watches when beautiful products become available. In this blog we focus on the watch winder brand Benson. Benson is a Dutch watch winder brand that produces beautiful models of high quality at a very attractive price. These watch winders offer everything you expect from a watch winder and are also durable and reliable. Because they have the watch winders manufactured in-house, they know how to keep the quality high and at the same time keep the price accessible. Benson predominantly uses high-quality Japanese motors, but nowadays also has models in the collection with Swiss made motors available. This way Benson knows how to serve enthusiasts with various personal preferences.
Benson offers a wide range, from entry-level models to very luxurious watch winders with all the trimmings. Benson's most luxurious lines are the Black Series and Swiss Series. These watch winders offer the real collector a showpiece for storing and winding automatic watches, regardless of watch brand or model.
Benson has launched the new Benson Smart-Tech II models this year. These watch winders are very complete, have a chic look and are equipped with the most modern techniques. In addition, just like the previous models, these are known for the unique price/quality ratio. The Benson Smart-Tech II watch winders are therefore very popular worldwide and loved by watch enthusiasts.
The Benson Smart-Tech II 6.20 watch winder is a good example and we will discuss it in this blog. This model is suitable for winding 6 automatic watches. In addition, this watch winder offers storage space for another 5 extra watches. This makes this watch winder not only suitable for the enthusiast, but also for the collector of automatic watches. In this way, your watch winder not only functions as an indispensable accessory to wind your watches, but also directly as a display to store and display your watches together. This is further emphasized by the built-in LED lighting, so you can see and show your watches at any time! The watch winder is made of wood and has a black exterior. This not only gives the watch winder a luxurious look, but also makes it suitable for almost any interior. The inside of the watch winder is made of fabric, which offers your watches extra protection against damage such as small scratches. The glass door means you don't have to worry about external influences such as moisture, dust and dirt.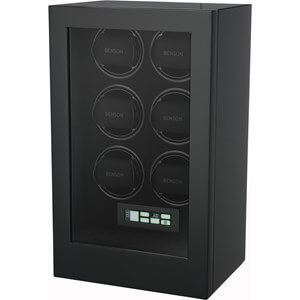 A Benson watch winder is suitable for any automatic watch. Benson uses flexible watch holders, so that almost every type and size of watch fits well in the watch winder. In addition, the rotors of this watch winder are individually adjustable, so that each watch is perfectly supplied with energy in this watch winder. You can set the number of rotations per day and the direction of rotation, among other things. This is very easy with the help of the modern touchscreen. In addition, there is a power winding function, with which you can provide your watches with the necessary energy in a short time. Ideal when there is not much time available for it. And then of course, last but not least, the motors. This watch winder is equipped with strong Japanese motors of very high quality. These motors are, among other things, energy efficient and sustainable. You will be able to build and trust it for a long time. In addition, they are very quiet during the winding process, so you will not be distracted by annoying noises. It is therefore also very possible to place the watch winder at your workplace or in the bedroom, for example.
What is striking about this Benson Smart-Tech II 6.20 watch winder, in addition to the good quality and high functionality, is the sublime finish and choice of materials. The combination of the particularly beautiful wood of the case and the mineral glass of the door give the watch winder a modern look. With this watch winder you choose a very complete model with a nice competitive price. Your automatic watches will be optimally supplied with the required energy with the help of this watch winder, thus preventing them from coming to a standstill unnecessarily. This means you are not only annoying, but also, for example, inaccuracies in time and date display. In short, the Benson Smart-Tech II 6.20 watch winder is a great choice for the enthusiast with several automatic watches, or the real collector. Each Benson watch winder also comes in a sturdy packaging with adapter and manual.
Are you looking for a good watch winder for 6 watches? Then view this Benson Smart-Tech II 6.20 watch winder.