Benson Swiss Series Single 1.20 Red Leather watch winder
Posted on 13 April 2021 at 2:39 PM
Benson is a Dutch watch winder brand that has become extremely popular in the field of high-quality watch winders. Quality is therefore of paramount importance at Benson. In addition to quality, the brand is also known for its high level of finish, excellent functionality, a luxurious appearance and, last but not least, interesting prices. Partly because of this and because of the diversity in designs, Benson knows how to appeal to a wide range of watch enthusiasts.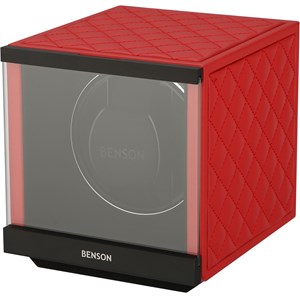 At the beginning of this year, Benson presented its new Swiss Series watch winders. A collection of luxury watch winders that is equipped with Swiss technology and is fully assembled in the Netherlands. This combination ensures top quality and a very nice finish. As a watch enthusiast, you want the best for your automatic watch, so let's take a look at a very nice model from this new collection of this Dutch brand: the Benson Swiss Series Single 1.20 Red Leather watch winder.
The Benson Swiss Series Single 1.20 Red Leather watch winder is equipped with Swiss made technology and is especially suitable for winding one automatic watch. For the enthusiast who is looking for a striking watch winder that makes your beloved automatic watch stand out even more, this is an absolute top model. With the striking red color and the original leather exterior, this watch winder can be called an absolute eye-catcher in any interior. The leather is made with a padded structure and beautiful stitching around the watch winder.
This watch winder is equipped with a very handy and easy to operate LCD screen that is placed at the back. With this you can easily set the number of rotations per day and the direction of rotation. This way you ensure that you give your watch exactly what it need. The Benson Swiss Series Single 1.20 Red Leather watch winder is equipped with built-in LED lighting. This gives you the opportunity to view your watch at any time of the day, including during the winding process. The specially developed safety system disengages the motor when a watch is placed or removed. This ensures the preservation of the motor so that it will last for years.
The watch winder is very compact in size so that everyone will easily find a nice place for this watch winder. In addition, the watch winder not only functions via mains power via the supplied adapter, but also on batteries. This offers the possibility to easily take your watch winder with you on a trip or, for example, to the office. Another great possibility because of these specific features is that this watch winder can be placed in a safe. This way, both your watch winder and your watch are stored extra safely.
Because this watch winder has a fabric interior, your watch is extremely well protected against scratches, for example. The watch winder closes with a glass door, which also prevents wear caused by dust, dirt and condensation. It is also easier to keep any children's hands out of the house.
A nice advantage of this watch winder is the flexible watch holder on which you place the watch. You click this into the watch winder itself so that it can never fall out while rotating. In addition, the watch holder is adjustable to the exact length of the watch strap. This means that every watch fits around the watch holder, regardless of what brand or model you have.
The Benson Swiss Series Single 1.20 Red Leather watch winder is a Limited Edition variant. This means that there are only 250 units worldwide. For the real enthusiast, this will make this watch winder extra interesting, who wouldn't want an exceptional and unique watch winder model to show off?
In short, with this watch winder you choose a unique model that stands out nicely. Your watch will never stop when you are not wearing it and is therefore always ready for use. In addition, you prevent inaccuracies in time and date display, among other things. This watch winder is incredibly reliable with the Swiss made motor, which can also be seen in the no less than 3 year warranty that you get with it. When you order this watch winder you will also receive it with a certificate and of course a clear manual. Of course we ensure that your package is sent by registered and insured mail and that you travel securely packed.
Watchwinders.com is an official dealer of Benson watch winders. We have almost all models in stock and can be delivered quickly. In our webshop you can pay with iDeal, credit card, Paypal or regular bank transfer. Do you want to wind your automatic watch in style in a high-end watch winder that is equipped with Swiss technology and assembled in the Netherlands? Then take a quick look at the new Benson Swiss Series watch winder collection.