Chronovision watch winder collection 2021/2022
Posted on 20 April 2021 at 1:46 PM
Chronovison can be described as being a pioneer of the modern qualitative watch winder. The progressive German watch winder brand had set itself the goal of developing a watch winder that would bundle all the advantages of the existing watch winders and at the same time offer a solution for the disadvantages of the existing watch winders on the market. The people behind the brand spent 2 years testing, researching and experimenting until they found a concept for unique watch winders that they were completely satisfied with. Chronovision has the honor to carry the made in Germany label, which indicates that the watch winders of the brand are of sublime quality. After all, there are very strict requirements attached to this. Solidity, reliability and durability are conditions for watch winders of this quality. This is, among other things, what every Chronovision watch winder stands for.
Most parts of the Chronovision watch winders are manufactured in Sauerland (Germany), the region where Chronovision is also located. In this way one knows how to keep the lines short in terms of the quality and origin of the materials and to create an exclusive product. The 70 parts that make up a Chronovision watch winder are assembled in 23 steps and the materials that are used are often processed by hand. With a watch winder from Chronovision you choose a product that is manufactured by real professionals and you can see that in the product. An eye for detail and a perfect finish are also of paramount importance at Chronovision.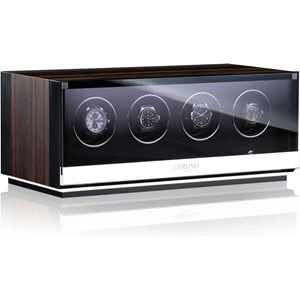 The appearance of the Chronovision watch winders can be called quite modern. The models give an ultimate feeling of luxury and are not only very functional, but also offer a stylish storage place and display for your automatic watches. Beautiful materials such as wood, chrome and glass are reviewed. Because Chronovision offers its watch winders with various capacities, the brand is interesting for both enthusiasts with a single watch and for the real collector. The Chronovision watch winders are suitable for any automatic watch, regardless of the brand or type of watch. The rotors of the watch winders are individually adjustable, allowing you to set the direction of rotation and the number of rotations per day per watch separately. This way you can be sure that every watch gets exactly what it needs. You can easily and quickly set up the watch winder via Bluetooth or PC. The user-friendliness of this watch winder will be an absolute plus for many enthusiasts. The watch winder stops and always starts at a 12 o'clock position.
Chronovision offers a large collection of watch winders with different models. The collection consists of the One, Ambiance and Prestige series. In all Chronovision series we see extra beautiful designs and high-quality functionalities for the perfect winding of one or more automatic watches. Consider, for example, built-in LED lighting that ensures that you always have a good view of your watches. But also a sleep mode, which ensures that you can give your watches a rest by keeping them just below the optimal level of arousal, is also possible. With a watch winder that is equipped with a power winding function, you can provide your watches with the required energy in a short time. A start-stop function is also a nice extra that Chronovision offers. Furthermore, the Chronovision watch winders are equipped with German motors, which, like the Swiss version, are very well known. These motors are energy efficient and also virtually silent in use. This means that you can also place them in your bedroom or workplace without disturbing noises. The Chronovision designs are also quite compact, so you don't need much space to place them. The glass doors of the Chronovision Ambiance models can be closed and ensure that external influences are kept out as much as possible. This way you protect your watches against condensation, dirt and moisture and you also ensure that not just anyone touches your watches with their fingers.
In short, with Chronovision watch winder you choose a luxury watch winder with a stylish look that will absolutely catch the eye of anyone who walks into the room. With a watch winder of this caliber you never have to worry about your watches standing still and you also have a particularly beautiful and safe storage place for your great pride. In addition, a watch winder like this ensures the correct oil supply for your watches.
If you want to order a Chronovision watch winder, you can do this with peace of mind. Chronovison offers a whopping 3-year warranty on the products, which says a lot about Chronovision's own confidence in the quality of the products. So with a Chronovision watch winder you buy an indispensable accessory for now, but also for the future. When you order your Chronovision watch winder from us, you will receive it well packaged and with clear manual at home. Give your watches the best, give them a Chronovision!