Benson Watch etui Black Series 4 Dark Brown
Posted on 9 June 2023 at 8:55 AM
Do you own several luxury watches? How do you store these when you're not wearing them? You don't just put your luxury watch in a drawer somewhere, after all you want to enjoy it for a long time. Depending on the type of watch (quartz, mechanical or automatic watch), there are various options for this in different price ranges.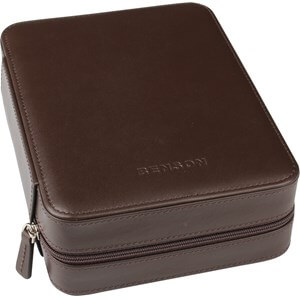 An automatic watch needs movement for the watch to function. When the watch is worn, this happens automatically. Not when you store your automatic watch. The watch winder is a perfect accessory for this. You can safely store your automatic watch in this and, moreover, a good watch winder immediately takes care of the winding of your automatic watch, so that it does not come to a standstill.
However, a quartz or mechanical watch does not have this need. A quartz watch works with the help of a battery and a mechanical watch with manual winding. You do not have to place these watches in a watch winder. There are several other stylish and safe options for storing your luxury watches. For example, you can opt for a beautiful and high-quality watch box. However, if you like to take your watch with you on a trip (for example a business trip or a vacation), a watch case is a very nice option. You can use this in addition to a watch box, but you can also choose to use your watch case both at home and when traveling. There are high-quality watch cases available that are not only handy and safe, but also have a stylish and elegant look. A beautiful quality watch case is already available at a competitive price, depending on the brand you choose. In this context, we would like to pay attention to a Dutch brand that offers high-quality watch boxes, watch cases and watch winders at an attractive price. We are talking about the Benson brand, which is known, among other things, for the stylish appearance and the good price/quality ratio of their products.
The Benson collection is very extensive and varied. The brand offers an extensive collection of watch winders with various capacities. In addition, the collection also houses several beautiful watch boxes and watch cases that are definitely worth a look. In this article we would like to tell you more about a very elegant watch case from the luxurious Black Series by Benson, namely the Benson Watch etui Black Series 4 Dark Brown. This watch case offers space for storing up to four watches. This way, you can store all your watches neatly and conveniently together at home and you can easily take your watches with you on a trip for a change. The Benson Watch etui Black Series 4 Dark Brown stands out for its luxurious character and excellent finish. This pencil case is handmade with great care by the true craftsman. Italian leather, which is one of the cream of the crop, has been used for the case. The case is then finished with a beautiful matching stitching. The interior of the watch case features a soft fabric in a lighter shade of brown. The soft interior ensures that your watches are always well protected against scratches or other damage. The case is also completely closable with the handy zipper. This way you don't run the risk of losing your watches and you also protect them against various harmful influences, such as dust and dirt.
The Benson Watch etui Black Series 4 Dark Brown is also available in several other variants. For example, the brand offers the same case with a capacity for one or two watches. In addition to the color dark brown, there is also a choice of black and camel. This diversity, in combination with the good price/quality ratio of the watch cases, means that Benson is able to target a wider audience with this range. The Benson Watch etui Black Series comes with a two-year warranty, so you always place your order with a good feeling. If you are looking for a safe and suitable storage place for your quartz or mechanical watches, the Benson Watch etui Black Series 4 Dark Brown is an excellent choice. You not only opt for safety, but also for a practical accessory due to the compact size. You can also store your watches in style and you are kind to your wallet.
All good reasons to choose a Benson Watch case from the Black Series. You will find all Benson Watch etuis and cases from the Black Series in our webshop. In addition, all watch winders and watch cases of the brand can also be found in our webshop. You can pay with us with various secure payment methods, such as iDeal, Paypal, credit card and regular bank transfer. View the beautiful and extensive collection of Benson now. You will find a clear description and photos of all products in our webshop.