Swiss Kubik Aluminium Navy Blue watch winder
Posted on 16 June 2023 at 2:36 PM
If you want to purchase a watch winder to wind your automatic watch perfectly, you naturally prefer to choose a brand that the Swiss watch manufacturers recommend with confidence. The Swiss brand Swiss Kubik is such a brand. Swiss Kubik watch winders are equipped with the best Swiss technology. Swiss Kubik is only satisfied when their watch winders meet the pinnacle of perfection. Moreover, the brand attaches great importance to tradition, but innovation and innovation are also very high on the list of priorities. This has resulted in a collection of watch winders that belong to the cream of the crop.
Each individual watch winder from Swiss Kubik offers a gentle and effective winding method for any automatic watch. It does not matter what type or brand of automatic watch this is. Swiss Kubik is known worldwide as one of the best brands. In addition, the watch winders of the brand have even more characteristic features. The first is the cubic design. Because all watch winders have a cube shape or a multiple of different cubes, they are very recognizable. Nevertheless, Swiss Kubik offers different types of watch winders in terms of appearance. This is because the brand's watch winders are available in different colors and materials. For example, there are Swiss Kubik watch winders made of leather, wood, aluminum and polyamide. You can also choose from watch winders in different colors. Within the Swiss Kubik Startbox series you will find watch winders in vibrant colors such as aqua, blue, red and orange.
We have selected a specific watch winder from Swiss Kubik for you for this article, which we would like to tell you more about. It concerns the Swiss Kubik Aluminum Navy Blue, this is one of the more luxurious models of the brand, suitable for winding one watch. This watch winder is made of aluminum. This material has the advantage that it is strong and light in weight at the same time. The exterior of the watch winder is dark blue in color and the inside is black. This offers a nice contrast.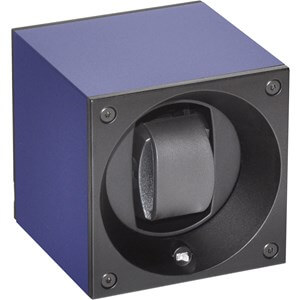 This watch winder is suitable for any type of automatic watch. If you own a very small ladies' or men's watch, it is possible to order a smaller watch holder. The watch winder can also be made lockable by ordering a special glass door. This ensures that you protect your watch against various harmful external influences. You can think of, for example, moisture, dust and dirt, but also unwanted children's hands. Naturally, the Swiss Kubik Aluminum Navy Blue is equipped with a Swiss-made motor that you can always rely on. With this engine as a solid basis, Swiss Kubik provides an energy-efficient and, moreover, silent way of excitement. With the Swiss Kubik Aluminum Navy Blue, you don't have to worry about disturbing noises during the winding process. This makes this watch winder an excellent choice if you would like to be able to place your watch winder in, for example, the bedroom, study or office. This model is also adjustable in terms of the number of turns per day. Setting up the watch winder is easy and simple, using the handy USB connection. Of course, this watch winder is also equipped with overwind protection. This ensures that your watch is protected against overvoltage when it is wound. Finally, the Swiss Kubik Aluminum Navy Blue functions with the help of a set of AA batteries, on which this watch winder can function without problems for up to three years.
In short, with the Swiss Kubik Aluminum Navy Blue you choose the well-known Swiss made quality and a bit of sustainability. This watch winder ensures that your automatic watch is ready for use and that it can be stored safely and protected. Your watch looks extra nice in the modern and stylish design and you don't need much space to place this watch winder. Taking it with you on a trip or to the office and placing it in a safe are very well possible due to the handy size in combination with the battery operation. Your watch is not only supplied with energy correctly with this watch winder, the oil distribution is also perfectly regulated by means of the rotation. With the Swiss Kubik Aluminum Navy Blue you are therefore assured of the best care for your automatic watch.
Watchwinders.com is an official dealer of Swiss Kubik. You order the Swiss Kubik Aluminum Navy Blue watch winder safely and quickly in our webshop. In addition to this model, you will also find many other appealing and high-quality models of the brand here. Every Swiss Kubik watch winder is supplied by us with the generous warranty period of no less than three years. This further emphasizes the brand's confidence in its own products. If you do not know which Swiss Kubik watch winder suits you and your watches best, we are happy to help you.
Not only enthusiasts with one or a few automatic watches, but also the real collector can find their way within the Swiss Kubik collection. So take a look at the many possibilities now and be surprised!