Heisse and Sohne Meranto 70019-136.11 watch winder
Posted on 27 April 2023 at 3:14 PM
A watch winder is an indispensable accessory if you own one or more automatic watches. But what is a watch winder actually for? Automatic watches can only function through movement. This means that you do not need a battery for an automatic watch. On the other hand, the watch does not wind up when it is not worn. When wearing the watch, the natural movement of the wrist provides the necessary energy. So when the watch is not being worn, it is necessary to meet the movement needs of the watch in a different way. A watch winder is the perfect solution for this. You can safely store your automatic watch or watches in it, while the watch winder immediately ensures that the watch is wound. This is usually done through rotation. This prevents your watches from standing still and the possible unpleasant consequences. For example, standing still can cause inaccuracies in time/date display and it is annoying if you have to set your watch again and again after standing still.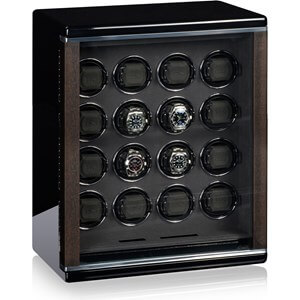 Watch winders are available in different price ranges and with a difference in quality. In addition, the degree of luxury differs per brand and per watch winder and there is also a clear difference in functionality and design. When you want to purchase a watch winder, it is therefore important to think carefully about what is important to you, what requirements you set for a watch winder and, of course, what your budget is. Naturally, good quality is always an important requirement. Switzerland is very well known as a watch country pur sang for both high-quality watches and high-quality watch winders. However, Germany also offers great brands in this area, such as the Heisse & Söhne brand. Heisse & Söhne offers a beautiful collection of watch winders with a luxurious look. With the well-known German reliability in combination with high-end Japanese motors, you can be sure that you choose quality. Heisse & Söhne offers watch winders in its collection for a single automatic watch, but also watch winders suitable for a collection of automatic watches. In this article we would like to pay more attention to a watch winder from the latter category.
The Heisse & Söhne Meranto 70019-136.11 is an extremely luxurious watch winder, suitable for winding no less than 16 automatic watches. This model is therefore ideal for the avid collector. The watch winder consists of a beautiful wooden case with a glossy finish. The combination of the color black with the color of the wood makes this watch winder an absolute eye-catcher. The inside of the watch winder is black in color and equipped with a soft fabric to protect your watches. The basis of this watch winder is formed by top quality Japanese motors. These motors are strong enough to wind the heaviest automatic watch. In addition, they are energy-efficient and low-noise, which certainly benefits the user comfort of the watch winder. Of course, these Japanese motors are also very reliable, so you can always be sure that your automatic watches are ready for use. The Heisse & Söhne Meranto 70019-136.11 is equipped with a modern LCD screen. With the help of this you can easily and quickly set up the watch winder. Think of the direction of rotation and the number of turns per day. It is possible to do this per rotor separately, so that each individual watch gets exactly the right way of winding.
With the Heisse & Söhne Meranto 70019-136.11 you have the programs CW, CC and Alt and an overwind protection. In addition, this watch winder is equipped with built-in LED lighting. This gives you a beautiful view of the rotating watches. This nice extra makes this watch winder very suitable for presenting your watch collection. With the special sleep mode, you can give your watches some rest by keeping them just below the optimum level of excitement. In short, the Heisse & Söhne Meranto 70019-136.11 offers the complete picture if you, as a collector of automatic watches, are looking for a suitable watch winder for your collection. With this watch winder you never have to worry about stopping your watches again and you also immediately have a beautiful storage space for your entire collection.
You can order the Heisse & Söhne Meranto 70019-136.11 from us in the webshop. Every Heisse & Söhne watch winder is extensively tested before delivery on the basis of a checklist, so that only perfectly working watch winders leave the company. When you order a Heisse & Söhne watch winder from us, you will also receive it with a 2-year warranty and of course a clear manual. Of course we ensure that your new watch winder is carefully packaged before we send it. You also pay with us with a safe feeling. You can use various secure payment methods, such as credit card, PayPal, iDeal and a bank transfer. View our beautiful collection of watch winders now and choose your favorite!