Heisse und Sohne Collector 70019/17 watch winder
Posted on 10 November 2020 at 2:37 PM
For anyone who owns an automatic watch, a watch winder is an absolute "must have" when it comes to this hobby. For the collector it can even be called an indispensable watch accessory. When you collect automatic watches, it is of course impossible to wear them all at the same time. Now an automatic watch is normally powered by the natural movement of the wrist. If this movement is not there, i.e. if the watch is not being worn, the watch will not be wound automatically and will stop at some point. As a fan of your automatic watch, that's not what you want, as it can have unpleasant consequences. Consider, for example, inaccuracies in time and date display, but also wear and tear because you have to manually wind the watch every time and set it correctly in terms of time and date.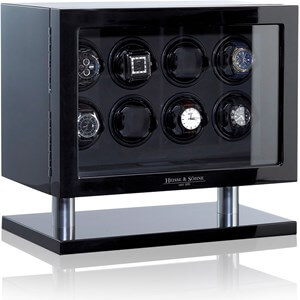 In short, as a collector of automatic watches you use a watch winder! This ensures that you can also wind your watches when you are not wearing them. There are watch winders with space for 1 or 2 watches, but also for many more watches. This is of course ideal as a collector. You can supply your watches with energy at the same time and with the beautiful designs that are now available on the market, you immediately store your watches together in a beautiful and orderly way. You present your watches in this way directly in style! Now there is such a wide range of watch winders, also specifically for collectors, that you will sometimes no longer see the forest for the trees. Important when choosing a watch winder is of course that it must be a good quality watch winder. You don't just entrust your collection of automatic watches to any random watch winder! There are various beautiful watch winder brands on the market that supply high quality watch winders, in various price ranges. There is also a great diversity to be seen in terms of appearance of the watch winders. From more basic designs to entire works of art that give you an absolute eye-catcher.
A German brand that produces absolute top quality watch winders with an extremely stylish appearance is Heisse & Söhne watch winders. Characteristic of the watch winders from Heisse & Söhne are, among other things, the very luxurious appearance of the designs and the excellent technology. This is why this brand owes its popularity, in combination with a beautiful finish and competitive prices. Heisse & Söhne uses flexible watch holders. The watch winders are therefore suitable for any automatic watch, regardless of brand or type. In addition to watch winders, Heisse & Söhne also offers watch winder safes of excellent quality. These safes meet the highest European standards and therefore offer a very safe storage place for your watches.
A special watch winder within the Heisse & Söhne collection, which is suitable for the real collector, is the Heisse & Söhne Collector 70019/17 watch winder. This specific model is suitable for winding 8 automatic watches. As we are used to from Heisse & Söhne, we see a modern and attractive design here. The combination of the black color of the case with the stainless steel legs gives the watch winder a very luxurious look. The watch winder has a fabric interior to protect your beloved watches. In addition to the stainless steel of the legs, this watch winder is made of quality wood and mineral glass, among other things. The glass door ensures that your watches are protected against dust and dirt, for example, and thus also prevents damage and wear.
Heisse & Söhne also offers very good functionality. The Japanese quality motors are both energy-efficient and have a low sound level, so that you experience optimum user comfort when using the watch winder. The watch winder is also equipped with a modern LCD control panel, with which you can easily set the rotors individually in terms of direction of rotation and number of revolutions per day. The LED lighting ensures that your watches are always clearly visible. After all, you want to be able to view and show your pride at any time of the day! Naturally, the watch winder is provided with overwind protection. The watch winder is powered by an adapter via mains power. The Heisse & Söhne Collector 70019/17 can rotate your automatic watches in both directions, and with different number of revolutions per day. In short, the Heisse & Söhne Collector 70019/17 watch winder is a very complete model that not only winds your watches in style, but also looks great in any interior.
If you would like to order this Heisse & Söhne watch winder, or see more of the collection, you can easily do this in our webshop. You will find an extensive collection of Heisse & Söhne watch winders here. Heisse & Söhne stands for nothing less than perfection. Every watch winder is therefore checked and tested on the basis of a checklist after careful production, so that every customer is optimally satisfied with the end product.
Each Heisse & Söhne watch winder comes in a sturdy packaging, together with a clear manual and a 2-year warranty.