Orbita Sparta Bold 2 watch winders
Posted on 10 March 2021 at 8:31 AM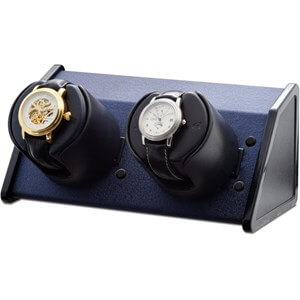 An automatic watch shows the purest form of the watchmaker's craft. With an automatic timepiece, the detail and craftsmanship is something that comes alive. Where a quartz watch works on battery and a mechanical watch works by means of winding, an automatic watch gets the required energy from the natural movement of the wrist. Many watch enthusiasts are particularly charmed by the watches with an automatic heart. The disadvantage is, of course, that an automatic watch will stop when it is not being worn. After all, the necessary movement to generate energy is lacking. It does not benefit an automatic watch when it comes to a standstill, as it can even cause inaccuracies in time and date display. To ensure that an automatic watch continues to run when it is temporarily not worn, there is the watch winder. This indispensable accessory in this area provides the movement that the watch needs and thus ensures the correct winding of the watch.
A watch winder also immediately offers a nice storage place for your watch. In addition, it acts as a kind of status symbol for some enthusiasts, just like the watch itself. The types and sizes of watch winders, from both the piece of technology to the appearance and degree of luxury, therefore vary widely. There are also many differences in the field of quality. Swiss products are seen in this world as the best of the best. The American watch winder brand Orbita watch winders is seen as a high-end watch winder brand and offers watch winders that are equipped with a Swiss motor. These motors are very well known worldwide. They are solid, reliable, energy efficient and quiet in use. Orbita is also a progressive brand in this field and, in addition to the standard way of arousal by means of rotation (Programmable System), has also launched a self-developed and patented system. They call this the so-called "Rotor Wind System". This system provides the necessary movement by gently shaking the watch. The Orbita watch winders are suitable for every watch brand/model and the Orbita collection offers predominantly classic designs. In terms of capacity, Orbita offers watch winders for the enthusiast with a single automatic watch, as well as for the real collector with a wider collection.
If you own a single automatic watch and you are looking for a good watch winder of extremely high quality, Orbita offers the Orbita Sparta Bold 2 watch winders. This model is suitable for winding 2 automatic watches and available in many colors. With this watch winder model we see a simple but effective design. The advantage of these watch winders is that they have a compact design so that you can place them anywhere and even take them with you on a trip or to the office. This is further emphasized by the battery function, which also makes it immediately possible to place the watch winder in a safe, for example. This is a very good solution for those who go for an optimal safe storage place. This variant watch winder from Orbita is available in various vibrant colors, such as red, blue and green. But the more neutral colors such as black and brown are also an option. With this, Orbita offers a nice alternative for almost every personal taste. These watch winders are made of plastic and robust.
With the Orbita Sparta Bold 2 watch winder you have access to all directions of rotation; clockwise, counter-clockwise and alternately. The rotors are adjustable and of course the watch winders are provided with overwind protection. Orbita uses flexible watch cushions, around which the watches are attached. These protect against damage and are suitable for almost any watch. If you have an extra small watch, it is also possible to order smaller foam cushions. This way, whatever watch is your favorite, you always have the perfect watch winder for your watch!
In short, with the Orbita Sparta Bold 2 watch winder you choose an extremely efficient watch winder that you cannot ignore in terms of quality. Due to the compact design, these watch winders are very handy and take up little space. Moreover, the price/quality ratio of these watch winders is very good. At Orbita, the emphasis has been placed on quality, technology and functionality with these models, while keeping the design somewhat simpler. This makes these watch winders very affordable and will therefore appeal to a wider audience. With these watch winders you can also be sure that you buy a watch winder for a longer period of time.
Watchwinders.com is an official dealer of Orbita. This has several advantages. When you order an Orbita Sparta Bold 2 watch winder from us, you will receive it with a 2-year warranty and a clear manual at home. So you never have to worry about a possible downtime of your automatic watches again. Order and pay with confidence in our webshop, as an official dealer of Orbita we offer the best service and absolute certainty!