Orbita Sparta watch winders
Posted on 21 August 2021 at 11:20 AM
When you are looking for a good watch winder, certain aspects are very important. Not only quality, appearance and technology are important, of course it also depends on how much money you can and want to spend. In addition, the desired winding capacity also plays a role, in other words, how many watches do you want to wind in the watch winder? If you own 1 or 2 watches, you will be fine with a watch winder for one watch, but the real collector will certainly need a larger capacity in this area. Various quality brands offer suitable watch winders for both collectors and enthusiasts with 1 or 2 watches.
A good example is the American watch winder brand Orbita. Orbita knows how to distinguish in its collection between very luxurious watch winders with various options and also watch winders with a more simple design that are very functional. This last group of watch winders ensures that not only the enthusiast who wants or can spend more on a watch winder can go to this high-end watch winder brand. Even those with a smaller budget can purchase a watch winder of very high quality in this way.
The Orbita watch winders are equipped with the well-known Swiss motors, the absolute cream of the crop in this area. With these motors as a basis, you are assured of a watch winder that is solid and reliable and also performs its work silently. So you can place your watch winder in your bedroom or at your workplace without worry. You will not be disturbed by annoying noises.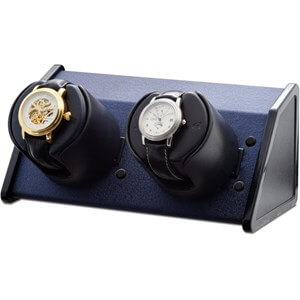 Orbita is one of the oldest watch winder brands that exist. The brand has therefore gone through many developments and has therefore gained a lot of knowledge and experience over the years. Orbita is therefore an innovative and progressive brand. This is clearly visible, among other things, because they use a winding system that they have developed themselves. This system is the 'Rotorwind System' and provides the energy for your watches by gently shaking the watch, where the calibrated system provides this through rotation. Incidentally, the latter system is also available from Orbita, under the name 'Programmable System', so that you can make your own choice.
As mentioned, the Orbita collection contains watch winders with a diverse capacity. With the Orbita Sparta watch winders, Orbita offers high-quality models for winding 1 or 2 automatic watches. The design of the Orbita Sparta watch winders is minimalistic and sleek and also compact in size. This means that you can easily move these watch winders and that you do not need much space for them. Because these watch winders also function on batteries, it is easy to take them with you on a trip or to the office, for example. In addition, this feature offers the possibility to place the watch winder in a safe. The Orbita Sparta watch winders are made of plastic and are available in different colors, such as brown, blue, green and red. This way you will always find an Orbita Sparta watch winder that suits your personal taste and interior.
The Orbita Sparta watch winders not only have a simple and compact design, they are also characterized by the fact that they are very effective and also affordable. In terms of technology, they are of course equipped with a Swiss made engine. With a watch winder from the Orbita Sparta series, you have all the functions to wind an automatic watch properly and safely. All in all, Orbita offers top quality with the Sparta models at a competitive price. If you are not waiting for all kinds of extras and bells and whistles, but do want the best quality, these are very good watch winders that you will enjoy for many years to come.
Orbita watch winders are suitable for any automatic watch. Whatever brand or type of automatic watch you own, Orbita's watch winders will provide them with energy in an efficient and mild manner. This way, your watch is always ready for use and you no longer have to worry about your watch standing still with all the annoying and time-consuming consequences that entails.
Orbita uses flexible watch pads on which your watch can be attached. These pads are made of a type of foam and protect your watch optimally against damage. These flexible watch cushions are suitable for most watches, but if you have extra small watches, it is possible to order smaller watch cushions from Orbita. The Orbita logo is visible on these cushions for an extra feeling of luxury.
When you order an Orbita watch winder from us, you will receive it with a 2-year warranty in sturdy packaging. Of course, the clear manual is also included so that you can immediately get started with your new purchase. As an official dealer of Orbita, we are also able to assist you like no other with advice and assistance where necessary. So place your order now and so that your automatic watches don't come to a standstill anymore!