Benson Smart-Tech II 2.20.B watch winder
Posted on 24 February 2021 at 9:23 AM
Benson is one of the most famous watch winder brands worldwide. In a short time this brand has grown into one of the leading brands in the field of winding automatic watches. The Dutch brand has been producing watch winders for years that are praised by many watch enthusiasts for their excellent quality and extensive options. The unique combination of price and quality is one of the great advantages of a Benson watch winder.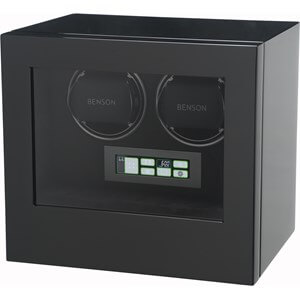 The popular Benson Smart-Tech II watch winder series was launched in 2011 and each time equipped with new models. Also now Benson has added 3 new models that succeed the "old" models. This new series of Smart-Tech II watch winders consists of 3 different models, namely for winding 2, 4 or 6 automatic watches. Each Smart-Tech II watch winder has a door with glass for optimal view of the rotating watches. The Japanese motors guarantee virtually silent winding of any automatic watch. The big advantage of these watch winders is that it can be individually set per watch. This makes you extremely flexible in terms of setting the direction of rotation and the number of rotations per day (TPD: turns per day). This is very useful because if you have automatic watches from different brands, they often have to be wound in different ways. With the Benson Smart-Tech II watch winders you have all the options, so you don't have to worry.
Via the modern touchscreen you can set the Benson Smart-Tech II 2.20.B watch winder so that your watches are supplied with energy quickly and easily. In addition, you can activate the LED lighting and power winding function via the touchscreen.
When you open the door of the Smart-Tech II watch winder you will see a drawer in which you can store other watches but also jewelry. This is a nice feature because as a watch enthusiast you like to keep your watches safe. The watch holder of each Benson Smart-Tech II 2.20.B watch winder is adjustable as desired. As a result, you can click almost any automatic watch into the watch winder itself. This is important because it means that the watch can never fall out during winding.
The black wooden cabinet contains 12 layers of paint and a top protective layer. There is a soft fabric on the inside of the watch winder to optimally protect the watches.
As an official dealer, we have all new Benson Smart-Tech II watch winders in stock. We deliver with a 2-year warranty, manual and adapter. Of course, each watch winder is properly packaged and delivered to you by one of our couriers. We ship worldwide and you can pay with iDeal, credit card or Paypal. You can of course also transfer the amount if you prefer.