Paul Design Gentlemen 12 Black Apricot watch winder
Posted on 24 March 2021 at 8:32 AM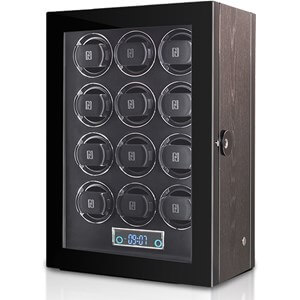 Every watch enthusiast knows that a good watch winder is a must have. After all, this watch accessory ensures that automatic watches are supplied with the necessary energy when they are not being worn. This way you prevent the automatic watches from coming to a standstill unnecessarily. This causes inconvenience because you have to reset one or more watches every time in terms of time, date and other functions. In addition, you have to manually wind or shake the watch to obtain energy that causes the watch to run. This is all unnecessary when you use a watch winder.
Watch winders come in many different shapes and sizes, not to mention many different brands. If you, as a enthusiast and collector of automatic watches, are not yet familiar with the watch winder brand Paul Design, we would love to change that today. In the field of qualitative watch winders, Paul Design is unique due to, among other things, the combination of quality, functionality and at the same time an attractive price. This makes this special brand from the United Kingdom very well able to compete with much better known and more expensive brands. As an official dealer of Paul Design watch winders, we have had this brand in our collection for over 12 years and we know these watch winders inside and out.
Within the Paul Design collection we find watch winders for the enthusiast with some automatic watches, but especially watch winders with a larger capacity that are suitable for the real collector. Both the small collector and the collector with a medium to large collection of automatic watches can choose for a Paul Design watch winder. The Paul Design watch winders are very interesting not only in technical and qualitative terms. Many will also be charmed by this special brand with regard to the appearance. The watch winders from Paul Design have a luxurious and stylish look and are suitable for both a classic and modern interior. With a Paul Design watch winder you also choose the best for your beloved watches and for your wallet!
A specific watch winder from the Paul Design collection that we would like to take a closer look at is the Paul Design Gentlemen 12 Black Apricot watch winder. This watch winder is suitable for winding up to 12 automatic watches and is therefore a perfect choice for the real watch collector. The watch winder is equipped with 12 high-quality Japanese motors. These motors offer the advantage that they are powerful and at the same time energy efficient. This makes them ideal for winding heavier and larger watches. These have more weight, so you must have a good quality motor. In addition, the Japanese motors are almost silent in use, which offers optimal comfort. Of course, with this Paul Design Gentlemen 12 Black Apricot watch winder you opt for the excellent price/quality ratio that Paul Design is known for. This watch winder is made of beautiful wood, which, in combination with the black exterior, gives it a very chic look. The glass door offers your watches extra protection against various external influences, such as dust, moisture or dirt. The watch winder is also equipped with a fingerprint lock, which offers you, as the proud owner of special watches, extra security and will therefore mean an important added value for many enthusiasts. You open the door by simply holding your finger in front of the sensor. The door closes automatically after use.
In the technical field, we also see a modern touchscreen with this special watch winder with which you can easily and easily change the settings. For example, you can individually set the direction of rotation and the number of rotations per day per rotor. This way you can be sure that each watch is wound in the right way. In addition, Paul Design uses flexible watch holders so that almost every watch fits perfectly on the holder. The Paul Design Gentlemen 12 Black Apricot watch winder is therefore suitable for any automatic watch, regardless of the brand or type of watch. You can easily wind watches from Tag Heuer, Seiko, Rolex, Breitling or Zenith in this watch winder. Because the watch winder is equipped with built-in LED lighting, you can view your watches at any time of the day or of course show your pride to someone else. This watch winder is not only an indispensable accessory for winding your watches. It also offers a safe storage place and functions as a display for exhibiting your collection.
In short, with the Paul Design Gentlemen 12 Black Apricot watch winder you choose an ultimate watch accessory that you will enjoy for a long time, given the high quality. Thanks to the powerful and durable motors, you are assured that your watches are always supplied with the necessary energy and therefore do not come to a standstill. You get a lot of value for money with this watch winder, both qualitatively and technically. The beautiful design and luxurious finish also ensure that your watch winder and therefore your watches immediately catch the eye of everyone who enters the room.
The Paul Design Gentlemen 12 Black Apricot watch winder comes with a 2-year warranty, a clear manual and remote control. So you can place your order in our webshop with confidence. We ensure that your watch winder is sent securely packaged so that it arrives neatly at you. As an official dealer of Paul Design, we offer you a wide collection, competitive prices and good service. In addition, we have almost all models in stock for fast delivery!