Paul Design Gentlemen 8 Macassar watch winder
Posted on 13 July 2023 at 3:44 PM
Are you that avid collector of automatic watches and do you have a larger collection of automatic watches? Then we have a good tip for a watch winder brand that offers the perfect watch winder for your collection. Even if you own one automatic watch or a large collection of automatic watches, this brand offers beautiful models.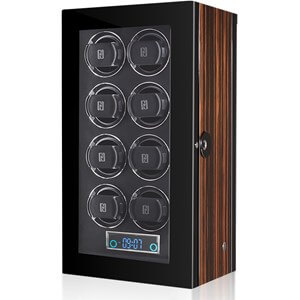 In this article, we would like to focus on a specific watch winder from the brand with an average capacity. We are talking about a brand that comes from the United Kingdom and that started developing watch winders from the start with a mission. This brand is called Paul Design and is one of the most popular brands in our collection.
Paul Design has always had an ambitious goal in mind. The brand wanted to make models that would be more attractively priced than those of the major well-known brands. At the same time, these watch winders had to be of high quality. This is guaranteed by Paul Design by using only high-quality materials and top-quality Japanese motors from the Mabuchi brand. In addition, Paul Design uses special flexible watch holders, which ensure that almost any size automatic watch can easily be placed in the watch winder.
When it comes to technology, Paul Design also opts for the best. The most modern technology is used for the Paul Design watch winders. What do you think of an innovative touchscreen, built-in LED lighting, or a fingerprint lock, for example? We all encounter these specs within the Paul Design collection. They increase the user comfort of the brand's watch winders, making them loved by many fans of automatic watches. It is therefore certainly worthwhile to delve further into the extensive collection of watch winders from Paul Design.
Let's take a closer look at one Paul Design model. Specifically, the Paul Design Gentlemen 8 Macassar offers space for winding up to eight automatic watches at the same time. This is therefore the perfect watch winder if you own an average-sized collection of automatic watches. The watch winder is made of particularly beautiful wood and has a macassar look. This gives this model a very luxurious look. On the inside, the watch winder is provided with a special fabric in the color black. This not only offers a nice contrast, but also protects your watches against damage. This watch winder is equipped with a glass door, which ensures that you can keep moisture, dust and dirt away from your watches. This benefits the durability of your watches.
The door is also equipped with a special advanced fingerprint lock. This way you can also be sure that you are the only one who can get to your watches. The Paul Design Gentlemen 8 Macassar is equipped with eight Japanese motors, which ensure that every type and brand of automatic watch can be effortlessly supplied with energy. With the modern touchscreen you can easily and quickly change the settings. For example, you can determine the direction of rotation and the number of turns per day for each watch separately. This watch winder therefore offers every automatic watch the most suitable way of winding. This model also ensures that you can literally put your watches in the spotlight. All eyes will therefore be on your watches when they are placed in the watch winder. With the handy built-in LED lighting that the watch winder is equipped with, you can turn your high-quality watch winder into a real display in which to present your collection. With the programs CW, CC and Alt and an overwind protection, this watch winder can be called complete. As a nice extra, you also have a handy remote control with this watch winder.
With the Paul Design Gentlemen 8 Macassar you opt for a mild and efficient way of winding, without having to pay a high price. Because Paul Design consciously opts for high-quality materials and the best technology, this watch winder is very reliable and can also be called durable. You will find a wide range of Paul Design watch winders in our webshop. We are proud to be an official dealer of the brand and can therefore assist you with advice and assistance in making your choice if desired. With a watch winder from Paul Design, one thing is certain, you will never have to worry about stopping your automatic watches again. In addition, a good watch winder ensures that the oil in the watches is well distributed, which guarantees the life of your automatic watches.
The Paul Design watch winders in our webshop are delivered worldwide by us using the services of DPD, PostNL and Fedex. You will receive your Paul Design watch winder with a two-year warranty and a clear manual. This way you can get started with your new acquisition right away! View our extensive range of Paul Design watch winders now and choose the watch winder that best suits you and your automatic watches. You certainly won't regret this!