RDI Prestige K10-5 watch winder
Posted on 20 January 2021 at 4:06 PM
Are you looking for a high end watch winder of impeccable quality? If you are not only looking for quality and good technique, but also creativity and originality, then this is a nice blog article for you. As a true enthusiast, you know that Switzerland offers absolute quality in the field of both watches and watch winders. In this article we highlight a watch winder brand that comes from this watch country "pur sang". We are talking about RDI. RDI offers Swiss made watch winders with a modern design, made from high-quality materials. The designs of RDI are unique and certainly original. This manifests itself in particularly beautiful use of color and/or shape. The brand even seeks collaboration with artists for this, which gives RDI something extra special. With an RDI watch winder you not only get top quality at home, but also an absolute 'piece of art' that deserves a beautiful place in your interior.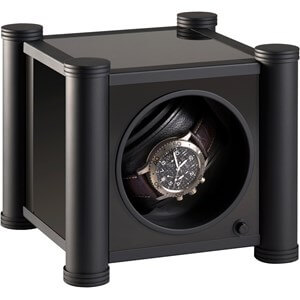 The RDI collection therefore houses high-end watch winders with a clear signature. The RDI watch winders are of course equipped with a Swiss made motor. These motors are known for being extremely durable, but are also very quiet in use. This increases the user comfort and that will be an absolute plus for many. The watch winders from RDI are also suitable for any type, brand and model of automatic watch. RDI is a relatively small watch winder brand, the advantage of this is that extra attention is paid to quality, finish and details. The RDI watch winders are therefore finished with the greatest care and this is absolutely visible in the end result. RDI offers a golden combination of Swiss-made quality, its own identity, high-quality technology and a good price/quality ratio.
Within the collection of RDI we find, among other things, the RDI Prestige K10-5 watch winder. This watch winder comes in the color black and, in combination with the particularly beautiful design, has a luxurious and original appearance. High-quality materials such as stainless steel and glass were chosen for this watch winder. This watch winder is suitable for winding 1 automatic watch and is reasonably compact in size and therefore easy to handle. The RDI Prestige K10-5 watch winder is also equipped with 16 programs for the most efficient possible winding of your watch. Of course, the watch winder is provided with overwind protection. The watch winder works via an adapter or on batteries. This is ideal if you would like to take your watch winder with you to the office, or if you want to place it in a safe for an extra safe feeling. Because the watch winder has a glass door, your beloved watch is protected against external influences. Think of condensation, dust and dirt, for example.
This watch winder from RDI is therefore ideal for the real enthusiast with a single automatic watch, who loves a special piece and an original design. This watch winder will be a real eye-catcher in your interior, which is how RDI distinguishes itself. The RDI Prestige K10-5 fits in almost any interior, because the color is quite neutral. Moreover, with this watch winder you can count on a piece of high-quality technology. The Swiss made quality guarantees a durable and reliable product that you and your watch will enjoy for a long time.
If you are looking for a watch winder for your watch and you think that this could be the one for you, you can better view it in our webshop. We are experts in watch winders. Moreover, we have been an official dealer of RDI for several years. This means that we know the collections well and can also offer professional advice. We also offer the latest collections from RDI. You can order your favorite watch winder with confidence from an official dealer.
If you would like to compare the various watch winders from RDI or some of the other many beautiful watch winder brands that we have to offer, you can easily do this with the comparison function on our website. With this function, the watch winders you have chosen are placed in a handy schedule, so you can easily compare the differences and similarities of the different watch winders and make a solid choice. If you have any questions, we can help you with this and provide you with the right service. The RDI Prestige K10-5 watch winder is now also available at a nice discount. A very good time to choose quality. Don't wait too long and grab this great opportunity now!
If you choose to order this RDI Prestige K10-5 or one of the other qualitative watch winders from RDI in our webshop, you will receive it at home with a 2-year warranty and of course a clear manual. We ensure that your watch winder is shipped quickly and in sturdy packaging.