The new Benson Smart-Tech II 2.20.B watch winder
Posted on 27 January 2021 at 8:16 PM
If you are looking for a watch winder for winding your automatic watches, you have probably heard of the watch winder brand Benson. This Dutch brand has been producing watch winders of very good quality for years that are used by many watch enthusiasts. Benson knows all the features you need to properly and safely wind an automatic watch, combining it with an attractive design and attractive price. You can wind all types of automatic watches quickly and safely in a Benson watch winder. For example, do you have a Rolex, Omega, Breitling or Tag Heuer watch? You can easily wind them in a watch winder from this Dutch brand.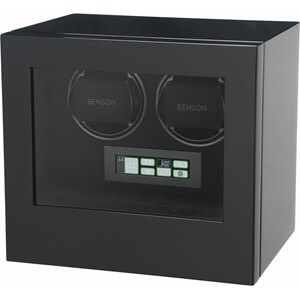 Recently Benson presented the latest generation of Smart-Tech II watch winders. This new series succeeds the current collection. The differences are mainly in an even better finish and new type of door. This gives the watch winder a more modern design and is even more functional in use. The big advantage of the Benson Smart-Tech II watch winders is the price/quality ratio. There are actually no other watch winder brands that offer a watch winder of the same quality for such an interesting price.
The new generation of Smart-Tech II watch winders consists of 3 models, namely for winding 2, 4 and 6 automatic watches. Each model is made of wood and has a glass door for optimal view of the revolving watches. The Japanese motors ensure a virtually silent winding any watch brand or watch model. A big advantage of these watch winders is that each motor, or each watch, can be individually set in terms of direction of rotation and number of revolutions per day. This makes you flexible with winding different automatic watches, for example when you have automatic watches from different brands.
The Benson Smart-Tech II 2.20.B watch winder can be operated via the touchscreen on the front, so you can wind each watch quickly and easily. Via the touchscreen you set the direction of rotation and the number of revolutions per day, but you can also operate the power winding function and the LED lighting.
Inside, at the bottom in the Smart-Tech II watch winders you will find a drawer in which you can store other watches, jewelry or papers. This is a handy feature of these watch winders because as a watch enthusiast you like to keep your watches together. The watch holders of the Benson Smart-Tech II 2.20.B watch winder are flexible and adjustable. This allows you to place almost any watch on the holder that you then click into the watch winder itself, so that the watch can never fall out during winding. This is another big advantage over watch winders with cushions, which can fall out.
The wooden case is black in color and contains 12 layers of paint and a top protective layer. The wood also absorbs sound, making the watch winder virtually silent in use when the door is closed. The inside of the watch winder is provided with soft fabric so that your watches are always safe and cannot be damaged when you bump into something.
The new Benson Smart-Tech II 2.20.B watch winder comes in a sturdy packaging and chic Black Series packaging. The warranty is 2 years and of course a manual is included. Are you interested in a very good quality watch winder with an affordable price? Then the new Benson Smart-Tech II watch winder series is definitely worth a look!