Swiss Kubik Startbox Gray watch winder
Posted on 18 July 2021 at 6:54 PM
We like to highlight and write about a brand from our collection every now and then. This way you get some more information about the brand than just photos and specifications. In this blog article we write about the Swiss Kubik Startbox Gray watch winder. This model was recently presented and immediately one of the most successful models of this brand. But why is the watch accessory so popular? Let's take a closer look at this model and list the arguments why you should wind your automatic watch in this Swiss Kubik Startbox Gray watch winder.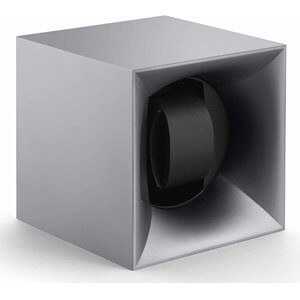 With a watch winder made in Switzerland you are always in the right place. It is not without reason that Swiss made products stand for optimum quality, durability and reliability. Switzerland therefore houses several beautiful watch winder brands, such as RDI, Bernard Favre and Swiss Kubik, each of which, in addition to an extremely high quality, also has its own special characteristics. In any case, a good Swiss watch winder ensures that you will never have to worry about a stoppage of your automatic watches.
A watch winder provides the movement that is normally provided by the natural movement of the wrist. This movement is necessary for every automatic watch because it generates the necessary energy. When the watch is not worn, the watch winder comes into the picture as a handy accessory. Still, a quality watch winder can offer several other functions. For example, a high-quality watch winder ensures the correct distribution of oil in the watch movement, it offers a good and safe storage place for your watch and it can also serve as a presentation tool, which will certainly be an advantage for the collector. After all, you want to make your watch collection stand out and show your pride. Last but not least, a stylish watch winder for the enthusiast will also function as a status symbol. Most watch winder brands therefore pay a lot of attention to the appearance of the watch winders that they produce.
Swiss Kubik is a Swiss watch winder brand that offers numerous options for the enthusiast with a single watch, as well as for the real collector. Swiss Kubik is a true concept in the field of the quality watch winder and will therefore not be unknown to the enthusiast and collector of automatic watches. With the Swiss made quality that Swiss Kubik offers, you can be sure that you can always count on your watch winder. Swiss Kubik offers a beautiful collection with many different models. In the collection of Swiss Kubik we find watch winders with the capacity to wind one watch, but also for example for 3, 6, 8 or even 12 watches. The Swiss Kubik watch winders are characterized by the cube-shaped designs, making them easily recognizable. In addition, the designs are compact, which is an advantage if you have less space available or if you want to take your watch winder with you on a trip or to the office. Because the Swiss Kubik watch winders can function for up to 3 years on a set of AA batteries, it is also very possible to place your watch winder in a safe. This means that you can choose the most secure storage place for your watch.
Swiss Kubik only chooses high-quality materials. Due to the diversity in the use of materials, it is possible to choose from many different variants and colors. As a result, there is a Swiss Kubik watch winder for every enthusiast. For example, watch winders are available made of plastic, leather and wood. In addition, there is a choice of watch winders for people with a different budget. For example, you can opt for an entry-level model, called the Startbox. With this watch winder you have everything you need to wind your watch efficiently and safely and you choose high quality without fuss. The Swiss Kubik Startbox Gray watch winder is one of the variants of this Startbox. This watch winder is made of polyamide in the color gray. This watch winder is equipped with a Swiss motor that is known for being very quiet in use. In addition, these brand motors are energy efficient, which is certainly a plus in today's zeitgeist. Furthermore, the Swiss Kubik Startbox Gray is standard set for almost all automatic watches and offers overwind protection.
In short, the Swiss Kubik Startbox Gray watch winder is a perfect choice for those who have one automatic watch and want to wind it safely and professionally. Thanks to the compact shape and battery function, you can place it wherever you want. Even in a safe so that your watch and watch winder are safe. Quality and sustainability are core values ??at Swiss Kubik. Every model is fully tested before it leaves the factory.
Every Swiss Kubik watch winder comes with a 3-year warranty. This says enough about how much confidence the brand has in its own products. As an official dealer of Swiss Kubik, we have the latest collections, the best prices and a very good service. Order your Swiss Kubik easily and quickly and with peace of mind now in our webshop. We have all popular models in stock and otherwise available very quickly.