The best Swiss watch winders
Posted on 29 December 2020 at 4:19 PM
Switzerland is the country for watches and is known for its high quality, innovation and durability in this field. What is inextricably linked to an automatic watch is of course the watch winder. The real enthusiast or collector of automatic watches cannot do without this. High-quality watch winders also originate in Switzerland. High-quality brands such as Swiss Kubik, RDI and Bernard Favre offer high-end watch winders which are made in Switzerland. These watch winders are equipped with Swiss motors, which are not only very powerful, but also quiet in use.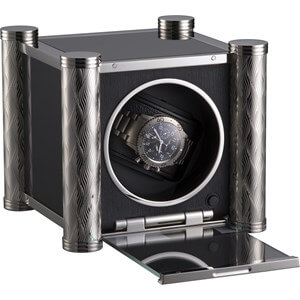 Each of the above Swiss watch winder brands stands for high quality and in addition each offers specific characteristic properties that fit the brand. For example, we know Swiss Kubik as a brand with distinctive cube-shaped designs and a sleek appearance. The Swiss Kubik Designs fit perfectly into a modern interior and are available in different series and with various capacities.
A good example of a Swiss Kubik watch winder with allure is the Swiss Kubik aluminum black. As the name suggests, this watch winder is made of black aluminum. This material has the advantage that it is not only strong and durable, but also lightweight. You can easily take this compact watch winder model with you to the office or while traveling. Because it works on batteries (they last an average of three years) it is also easy to place in a safe, ideal! It is possible to set the number of revolutions with this watch winder. The watch winder is therefore suitable for any type and brand of automatic watch. In addition, the Swiss Kubik aluminum black is provided with overwind protection and the watch winder is adjustable via USB connection. The watch winder is black and therefore fits in almost any interior.
The next Swiss model watch winder that we want to put in the spotlight is one from the RDI watch winder collection. This is a special Swiss watch winder brand, which is known for its unique and creative designs. The RDI Prestige K10-1 watch winder is a stylish model of this beautiful brand. This is therefore a very luxurious and modern watch winder, which the real enthusiast will certainly appreciate. With the design of this watch winder, RDI clearly emphasizes its own identity. The materials used for this watch winder include stainless steel and glass. The watch winder has no less than sixteen programs to wind your watch in the most efficient way. Just like the Swiss Kubik aluminum black, this watch winder is suitable for winding one watch. The watch winder is energy-efficient, low-sound and has overwind protection. In short, a completely complete Swiss watch winder of quality, suitable for any enthusiast of automatic watches and also a nice addition to your interior!
Bernard Favre is also a Swiss watch winder brand that can be called exceptional. With unique watch winder models with a clear signature, Bernard Favre offers an absolute extra within this market. Bernard Favre's watch winders are equipped with the so-called "Planet Winding System". These watch winders provide for the energy needs of every automatic watch because it rotates on its own axis. In the name of this system, a comparison is made with the rotation of the earth, as the watch turns on its own axis, as it were. Bernard Favre's designs are very recognizable and also very beautifully designed. Only the best materials are used for these watch winders with class. Consider, for example, stainless steel and stainless steel PVD.
A beautiful model from the Bernard Favre collection is the Bernard Favre Planet Black watch winder. This model is made of stainless steel with PVD coating. The watch winder offers three programs (CW, CC and Alt). This watch winder is equipped with a built-in battery. You can simply charge it by means of the USB connection, via mains power, PC or smartphone. Because this watch winder works by means of a battery, it can also be perfectly stored in a safe. Of course, the number of revolutions is also adjustable, which makes this watch winder suitable for any automatic watch, regardless of brand or type. Overwind protection is also available. In addition to the high-quality technology and extremely high quality, this watch winder offers an absolute extra. When you place it in your interior, it will be a real eye-catcher. Any enthusiast of automatic watches will be fascinated by the process of arousal, where the watch is always in plain sight. The glass bell jar that can be placed over the watch winder not only gives an extra luxurious look, but also offers protection against dirt and dust. This luxurious watch winder comes in a leather
If you have become interested by one of the special models mentioned above, take a look at our webshop. Here you will find each of these models and you can order them easily and safely. Watchwinders.com has extensive experience in the field of watch winders and we can therefore advise you in the right way and provide you with good service!