Watch winder safe for winding automatic watches
Posted on 23 November 2020 at 11:29 AM
Unfortunately, it happens more often than you think, a burglary where personal and valuable jewelry is stolen. Besides the fact that it greatly infringes on the feeling of security, you often also lose valuable things, with or without personal value. You hope never to experience this.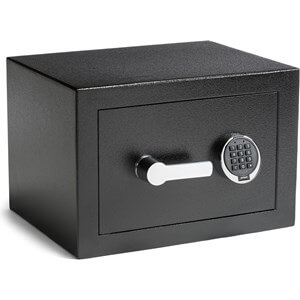 Fortunately, there are ways to protect valuable watches and jewelry and reduce the risk of theft. But if you put automatic watches in a safe, they quickly come to a standstill. This is obviously not good for the automatic timepieces in the watches. After all, standing still is going backwards. To prevent this, a good solution has been devised: a watch winder safe. A watch winder safe is a normal safe in which one or more watch winders are built so that you can not only safely store your automatic watches but also keep them wound up, so that each watch runs neatly on time and you can wear it immediately.
Winding watches in a watch winder
Normally you wind automatic watches in a normal watch winder. However, it does not provide protection against theft. These normal watch winders are cabinets made of wood and often have a glass door that is easy to open or even break open. This increases the risk of theft of your watches and/or jewelry. When you buy a watch winder safe you have optimal protection for your watches. You combine the best of both worlds, as it were. Because not only the risk of theft is smaller, your watches are also immediately ready to wear.
Watchwinder safe
A watch winder safe is actually a normal safe with a panel with watch winders that you can set via the controls. Watch winder safes often offer an extra space to store other jewelry. As a result, all valuables are safely protected. The advantage of these safes is that they are quite heavy and you can anchor them to the ground or wall. This makes it very difficult for burglars. The watch winder safes in our collection are also all equipped with locks made in the EU, which guarantees quality and security. The Benson Black Series watch winder safes have a Wittkopp electronic locking system, made in Germany, that is very highly regarded for safety, durability and ease of use.
Benson Black Series Safe watch winders
The Dutch watch winder brand Benson Watchwinders has become known for its popular Black Series watch winders. This collection of watch winders has models that are suitable for winding 1 to 24 automatic watches. These watch winders are now sold by more than 250 high-end jewelers worldwide. The brand is very strong in producing high-quality watch winders at a very competitive price. That is why many watch enthusiasts have a Benson watch winder for winding their automatic watches.
However, Benson also has a few very interesting watch winder safes so that the watches are completely safe when wound up. The Benson Black Series Safe watch winders are perfectly suitable for those who want to safely store their precious watches and at the same time also want to wind them so that they are immediately ready to wear. The Benson Black Series watch winder safes are made entirely in the EU and have the advanced Wittkopp lock system for maximum security. You open the safe with a code by means of this electronic system. The built-in watch winders are equipped with the latest Benson Black Series technology. These are Japanese motors for every watch and a modern touchscreen with which you operate every rotor. The built-in LED lighting provides a beautiful sight for the rotating watches, but also from a functional point of view it is useful to have extra light in the safe.
The Benson Black Series watch winder safes have a powder coating in the color black. Connect the adapter at the back so that the watch winder is active. This allows you to place the watch winder safe in almost any place. Of course you can then anchor the safe to the wall or ground, so that you create extra security.
The advantages of a watch winder safe
In fact, we have already listed all the benefits of a watch winder safe in this blog article. Safety is of course paramount. Especially when you have more expensive watches and jewelry, it is best to keep it safe. But also if your watches or jewelry have sentimental value, it is recommended to protect them as well as possible. It is very annoying when jewelry that you have inherited or received from a loved one is stolen.
The second advantage is of course that the watch winder in the safe ensures that your automatic watches are always supplied with sufficient energy. This allows you to take any watch directly from the safe and put it on your wrist. You don't have to wind it again and set the time and date. The watch is immediately ready to wear. This saves time but also inconvenience because otherwise you have to open the crown of the watch to set the time and date. The crown is one of the weakest parts of a watch. You don't want to open and close it often.
Check out the possibilities in terms of watch winder safes on our website. We deliver the safes on a pallet via Fedex. The watch winder safes are immediately ready to use. You only have to connect the adapter to the mains and place the watches in it. Naturally, every Benson Black Series watch winder safe comes with a 2-year warranty, manual and certificate.