Paul Design Gentlemen 6 Macassar watch winder
Posted on 4 December 2020 at 9:10 AM
A watch winder is becoming more and more popular among watch owners. As a enthusiast or collector of automatic watches, you will find an absolutely indispensable part of this hobby in a watch winder. The watch winder replaces the natural movement of the wrist when an automatic watch is not being worn and thus ensures that the watch is supplied with energy. As a result, the watch will not come to a standstill, which can prevent inaccuracies in time and date display. When you are looking for a watch winder for your watch, or perhaps an entire collection, you naturally want to find a watch winder that fits both your requirements and your budget.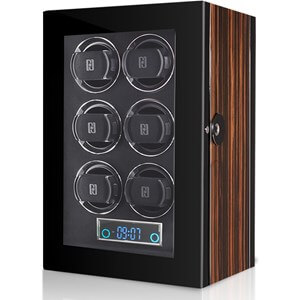 Of course, there are plenty of high-quality brands with high-end watch winders in the collection, which offer everything that the heart of a watch enthusiast desires in terms of quality, use of materials and technology. But if you want the same quality and innovation for a lower price, you will have to look a little better. The Paul Design brand, from Great Britain, is a very good option. Paul Design offers both for the enthusiast with a few watches, as for the collector with a nice collection, very good quality and a timeless design. The brand knows better than anyone how to compete with the more expensive brands in this area, by offering watch winders of the same quality for a competitive price.
The Paul Design brand was founded by Paul Chen, himself a true craftsman in this field. He has gained a lot of knowledge and experience over the years and develops his watch winders with a team of professionals. The Paul Design watch winders have a very luxurious and stylish look and will be a real eye-catcher in any interior. This, in combination with the latest technology and the beautiful use of materials, make the watch winders very attractive for every enthusiast. The heart of the watch winder is formed by Japanese Mabuchi motors. These are not only known for their good quality, but also for their smooth drive. In addition, these motors are virtually silent in use and energy efficient, which guarantees optimal user comfort.
The Paul Design collection has several beautiful series of watch winders with beautiful features. A watch winder that is very suitable for the collector with a collection of average size is the Paul Design Gentlemen 6 Macassar watch winder. This watch winder offers space for winding 6 watches. As characteristic of the watch winders from Paul Design, the combination of the beautiful wood of the case with the black door and inside creates a luxurious feeling. The glass door also keeps out dust, dirt and condensation and thus offers extra protection for your watches. The fingerprint technology in front of the door also provides an extra feeling of security and shows once again that innovation and high-quality technology are paramount at Paul Design.
To elaborate on that, we can mention several nice technical features of this watch winder. What do you think, for example, of the built-in LED lighting, so that you always have your watches in sight? And with the modern touchscreen display, you can easily set the direction of rotation and the number of rotations per day, among other things. You can do this individually for each watch, which ensures that you can meet the right conditions specifically for each watch. This means that the watch winders from Paul Design are suitable for any type and brand of automatic watch, especially in combination with the flexible watch holders that Paul Design uses. With the speed winding function it is possible to wind your watches in a short time and the sleep mode gives your watches 12 hours of rest by keeping them just below the optimal level of winding. Of course, this watch winder is also equipped with overwind protection. The Paul Design Gentlemen 6 Macassar watch winder is a very complete watch winder. You will lack nothing in terms of technology and quality, as well as the use of materials.
Now you will ask yourself, where can I order this top quality watch winder? The answer is in our webshop. We are official dealer of Paul Design watch winders and can provide you with the right service and advice if desired. In addition to the Paul Design Gentlemen 6 Macassar, you will find many other special watch winders from this quality brand in our collection. When you order a Paul Design watch winder in our webshop you will receive it with a two-year warranty and a clear manual. So you can place your order with confidence! In addition to the qualitative watch winders from Paul Design, you can also find various other brands of watch winders in our webshop.