Swiss Kubik SK02.CV004 watch winder
Posted on 11 December 2020 at 3:03 PM
Swiss quality is highly regarded in the worldof watches. This applies not only to the watches themselves, but also to the watch winders that must provide automatic watches with energy when they are not being worn. Because where the natural movement of the wrist normally meets this need, the watch winder takes over this function when a watch is not being worn. In addition, a watch winder protects against various external influences, so that you can enjoy your watches for a long time. A Swiss made watch winder stands for quality, reliability and durability. After all, Switzerland has a reputation to uphold and the "Swiss made" label should not be used just like that. Various requirements and conditions must be met to use that privilege.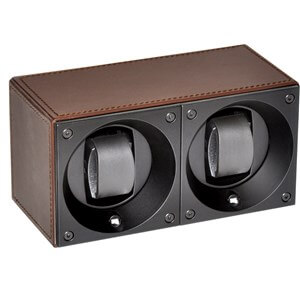 Switzerland is home to some watch winder brands that honor the "Swiss made" label. A nice brand that falls under this heading is the watch winder brand Swiss Kubik. Swiss Kubik produces high-quality watch winders with the most modern techniques. This is done with the utmost care and by real professionals, in Geneva. It is not without reason that this brand has a very good name in this field for years. Characteristic of this high-end watch winder brand is not only the high quality, but also the compact design of the Swiss Kubik watch winders. What also stands out with the Swiss Kubik watch winders is the perfect finish. Although Swiss Kubik offers a wide collection of watch winders with a diversity of capacities, the design in each design is clearly Swiss Kubik. There is a choice of watch winders with space for 1 and 2 watches for the enthusiast, up to 12 watches for the real collector.
A big advantage in combination with the compact design of the watch winders is that each Swiss Kubik watch winder can function for an average of 3 years on a set of AA batteries. This combination makes it possible to easily place the watch winder, for example in your office, in a safe or to take it with you on a trip. Placing the watch winder in a safe is especially a great option, so that you can store your watches and watch winder with a safe feeling. As an extra option, Swiss Kubik offers plexi glass doors at an additional cost that fit perfectly on the Swiss Kubik watch winders. This ensures extra protection for your watches against dust, dirt and condensation. Naturally, the Swiss Kubik watch winders are suitable for any automatic watch, regardless of brand or type. With a Swiss Kubik watch winder you can easily wind automatic watches from brands such as Rolex, IWC, Oris, Tag Heuer, Omega, Cartier, Patek and Breitling.
The Swiss Kubik watch winder collection consists of different series. A nice model watch winder that we would like to highlight in this article is the Swiss Kubik SK02.CV004 watch winder. This design is suitable for 2 watches and therefore ideal for the enthusiast who has a pair of automatic watches. This watch winder is made of beautiful brown leather. The brown leather exterior in combination with the sleek design means that the watch winder will fit perfectly in both a classic interior and a modern furnished home in terms of appearance. With this you immediately give your beloved watches a stage.
Of course, this Swiss Kubik SK02.CV004 watch winder from Swiss Kubik is also equipped with a reliable Swiss quality motor. This motor is and remains silent during the winding process even with longer use. This prevents unnecessary irritation when the watch winder is in use and provides optimal ease of use. In addition, the motor is energy efficient, which is also not entirely unimportant. The number of revolutions per day is also programmable and the watch winder has a USB connection. Of course, the watch winder is also equipped with overwind protection. In short, this specific watch winder model from Swiss Kubik is one that, despite its small size, is very complete and on the other hand, partly because of this size, offers various additional benefits. Every watch will look extra beautiful in this design, which fits almost anywhere. When it comes to quality, you can rely on the well-known Swiss reliability and durability. What else do you want?
Are you curious after reading all the benefits that Swiss Kubik offers you? Then take a look at our webshop! When you go for a quality product such as a Swiss Kubik watch winder, you prefer to order it from an official dealer of the brand, who knows what he is talking about. This way you can count on good service and the right advice when necessary. Moreover, an official dealer has access to the latest collections and best prices!
We are official dealer of Swiss Kubik and therefore have the necessary knowledge and expertise ready. You will find a wide range of Swiss Kubik watch winders in our webshop. You order your favorite watch winder from Swiss Kubik or one of the other well-known quality brands in our webshop easily and with peace of mind. When you order a Swiss Kubik watch winder, you will receive it carefully packaged in sturdy packaging, with a 3-year warranty. This says enough about how much confidence we have in the Swiss Kubik watch winders.