Benson Black series 8.16.CF watch winder
Posted on 26 September 2023 at 9:47 AM
Are you the proud owner of one or more automatic watches? Then purchasing a good watch winder is always a good investment. A high-quality watch winder ensures that your watches can be wound, even when they are not being worn. This is certainly a real solution for the enthusiast with several automatic watches. By placing your automatic watches in a watch winder when you are not wearing them, you ensure the correct winding of your watches and you also have a safe storage place for your watches. The movement that the watches receive in a watch winder not only provides them with the necessary energy.
In addition, this movement ensures that the oil in the movement of the watches is distributed correctly. This ensures the preservation of your watches and prevents unnecessary wear and tear. Because the watches are stored safely, you no longer have to worry about scratches or other damage to your watches when you are not wearing them. But how do you choose the watch winder that best suits you and your automatic watches?
There are so many different types and sizes of watch winders available within the watch industry that this can be quite a challenge. Watch winders from Switzerland are of course very well known. Although Swiss made watch winders are among the cream of the crop, there are also several other brands from other countries that also offer very high quality, often at a more attractive price. It can certainly be worthwhile for your wallet to delve into this matter. We are happy to help you with this by introducing you to the Dutch brand Benson.
As a Dutch brand, Benson watch winders has managed to build a good name over the years. This is because this brand distinguishes itself from other brands in various areas. First of all, Benson's collection is very extensive. Not only does the brand offer a very wide range, the diversity within the collection is also striking. The Benson collection is divided into different series of watch winders. This includes watch winders with space for winding a single automatic watch, but also watch winders with the capacity for winding an entire collection of automatic watches. In addition to capacity, we also see variation in other areas within the Benson collection. There are series of watch winders equipped with Swiss made motors, but also watch winders equipped with high-quality Japanese motors. Finally, Benson watch winders are available in various designs made from various high-quality materials.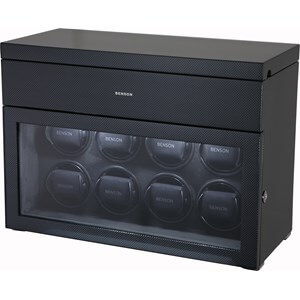 A good example of a high-quality watch winder from the Benson collection is the Benson Black series 8.16.CF watch winder. This watch winder comes from the Benson Black series and is therefore one of the most luxurious models in the collection. With its capacity to wind up to 8 watches, this watch winder is ideal for the real collector. In addition to this winding capacity, this watch winder model also offers extra storage space for 6 other watches. Of course, you can also store any other jewelry or cufflinks here if desired. With this watch winder you can store all your jewelry neatly and stylishly together. This watch winder is suitable for winding any type and brand of automatic watch. This model is equipped with high-quality Japanese motors, which are powerful enough to wind the heaviest automatic watch. Moreover, you can set the watch winder entirely according to your wishes for each individual watch. For example, you can easily set the direction of rotation and the number of turns per day for each watch individually. To set the watch winder, it is equipped with an advanced touchscreen, which makes this possible in an instant. The Benson Black series 8.16.CF watch winder offers the programs CW, CC and Alt, overwind protection and a USB connection. As a nice extra, this model also offers an extremely handy power winding function, with which you can supply your watches with energy in a short time. Another nice plus that this watch winder has to offer is the built-in LED lighting. This ensures that you can present your automatic watches in a professional manner. Moreover, with this handy lighting you can keep a close eye on them throughout the day. The energy supply of the watch winder is provided via the supplied adapter.
In addition to a bit of technical finesse and the nice extras mentioned, the Benson Black series 8.16.CF watch winder also offers a very beautiful and stylish design. The watch winder is made by hand, which makes this model stand out due to its sublime finish and eye for detail. The watch winder is made of wood and provided with no fewer than 12 layers of paint followed by a protective layer of lacquer. The inside of the watch winder has a special soft velvet, which optimally protects your watches against damage. The watch winder is also equipped with a soft close lid at the top and a glass door at the front. This also protects your watches against harmful influences such as moisture or dirt.
The Benson Black Series 8.16.CF watch winder is one of the best models you can choose as a watch enthusiast. The unique combination of quality, functionality and modern design is unparalleled. Competing brands offer a comparable model for 2 to 3x the amount that the Benson Black Series 8.16.CF costs.
The Benson Black Series 8.16.CF can be ordered from us in the webshop and comes with a 2-year warranty, a manual and certificate.