Benson Black Series watch winders | best choice!
Posted on 8 January 2019 at 5:20 PM
A watch winder is an absolutely essential accessory for people with a passion for automatic watches. A watch winder ensures that automatic watches which are not worn are provided with the necessary energy and provide the required oil supply. In addition, a watch winder offers a fixed and safe storage place for your favorite watch(es).
The Dutch brand Benson combines very good quality with a competitive price. This is possible because Benson the watch winders are manufactured in-house. Benson has various collections as a watch winder brand. The Benson Black Series watch winders are the most popular series and are sold worldwide.
The luxury watch winders in this series are handmade and equipped with silent and powerful Japanese motors. The Benson Black Series watch winders can be operated via a touchscreen and are suitable for any automatic watch, regardless of brand or model. This is because these watch winders can be adjusted in rotation direction and number of revolutions per day, per individual rotor. The built-in LED lights provide a perfect view of the rotating watches. The Benson Black Series watch winders are also very strong and stable in terms of pricing, they are almost never sold at a discount, so your watch winder retains value, unlike many other watch winder brands.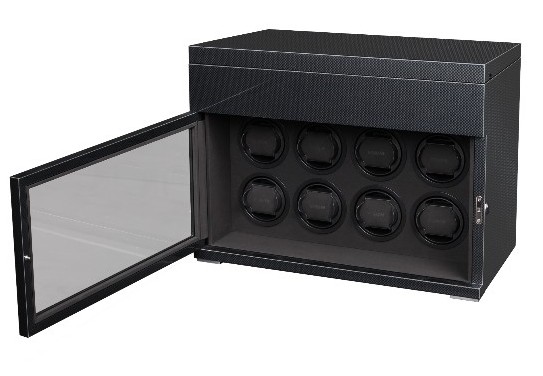 The Benson Black Series watch winders are available in the colors black, carbon, white and macassar. In addition, the watch winders are available for 1, 2, 4, 6, 8, 12 and 16 watches. Therefore suitable for those who only have one or two watches, but also for the real watch collector who has many watches.
The watch winders from Benson come with a 2 year warranty and are packed in a solid box with manual and certificate. We have the most Benson Black Series in stock and we ship worldwide.