Benson Compact Double watch winder for 2 watches
Posted on 1 June 2022 at 10:39 AM
When a watch winder brand have the intention to appeal to a large group of watch enthusiasts, then several aspects are important. For example, a collection with a diverse range is very important. After all, brands with models made of different high-quality materials and a diverse appearance have more to offer for watch lovers with different personal tastes. In addition, the capacity of the watch winders is also an important point. If you want to reach both the enthusiast with 1 or 2 automatic watches, as well as the real collector with many more automatic watches, you will have to respond to this in terms of capacity. Another important aspect is the price range. When you also offer watch winders in your collection for people with a smaller budget, you broaden your target group. Finally, we mention functionality. Of course, the quality of the watch winders must be good, but a bit of technical finesse and possible functionalities also play an important role.
A brand that has understood this well is the relatively young brand Benson. Benson manufactures watch winders of excellent quality at a competitive price. You will find watch winders in different price ranges in the Benson collection, but the good price/quality ratio is clearly reflected in every watch winder. The Benson collection offers models with both a modern and a more classic look and also offers diversity in terms of material use. So there is always a Benson watch winder that suits your personal taste, watches and interior. Benson also opts for variation in the type of engines. This innovative brand offers watch winders with both Japanese and Swiss made motors. Both types of motors are of high quality and also provide energy-efficient and quiet winding for your automatic watches. In short, Benson is a brand that is absolutely worth exploring. Whether you are an enthusiast with one automatic watch, or an avid collector, Benson offers a suitable watch winder for you!
As an example in this article, we would like to introduce you to the Benson Compact Double watch winders. These models offer the space for winding 2 automatic watches. The same model is also available for winding 1 or 3 watches. The Compact Double models are made of wood and available in different colours, such as black, white, carbon or wood colour. The interior of this watch winder is inlaid with a protective soft fabric in the color black. If you want to look at your watches extra well or in the dark, you can switch on the built-in LED lighting. With this beautiful function, this watch winder not only has a winding function, but also functions as a display for your watches.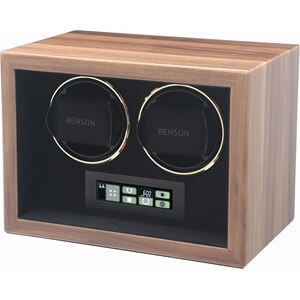 The Benson Compact Double watch winders are equipped with Japanese motors. This ensures that you can always rely on your watch winder, due to the durable and reliable nature of these motors. You never have to worry about your watches standing still. This prevents you from having to reset and set your watches over and over again. In addition, downtime can also cause inaccuracies in time and date display. That is of course highly undesirable. Every automatic watch can be wound in the Compact Double watch winder. It does not matter which brand or type of automatic watch you own. Because Benson has chosen to use flexible watch holders, you can easily place almost any size watch in the holders. You can also change the settings individually for each watch. You can do this using the modern touchscreen. With this you offer every automatic watch the most ideal way of winding. The Compact Double watch winders offer the CW, CC and Alt programs and overwind protection. As icing on the cake, however, you can also use the speed winding function. This allows you to wind your watches in a limited time without any problems.
Whatever automatic watch you own, a Benson Compact Double watch winder is always a good choice! We deliver these quickly to your home with a 2-year warranty and manual. Are you the proud owner of an entire collection of automatic watches? Even then, the Benson collection offers you many options. Take a look at our webshop and be surprised by the extensive collection! We can supply almost every Benson watch winder from stock. Moreover, we have extensive experience with both automatic watches and high-quality watch winders, so that we can always provide you with the best advice. We are also happy to assist you if you have any questions. There is an extensive series of photos of every Benson watch winder on our site. This way you get a good and clear picture of what the watch winders look like in real life and you know exactly what you are buying.
Watchwinders.com is official dealer of Benson. We offer you the latest collections, clear advice and delivery from stock.