Watch winder, the accessory for automatic watches
Posted on 6 June 2022 at 2:55 PM
As a watch enthusiast, you know that if you have an automatic watch, it will stop when you are not wearing the watch. An automatic watch requires energy in the form of movement (by wearing the watch) or manual winding (by turning the crown). When a watch is not worn, it stops after 24-48 hours. The time, date and other settings are no longer correct. If you then want to wear the watch, you must first ensure that the watch receives energy and that the time and date are set correctly. Not only is this inconvenient and time-consuming, it is also not very good for the technology of the automatic watch. To reset the time and date you need to open the crown. However, the crown is one of the most vulnerable parts of a watch. It is connected to the timepiece with a very thin pin. A defect in the crown therefore arises very easily. As a lover of automatic watches, you naturally want to avoid this.
A watch winder simulates wrist movement. The automatic watch rotates in the watch winder so that it obtains energy. This movement keeps the watch running and the settings remain correct. This allows you to wear the watch immediately whenever you want. Especially when you have several automatic watches, the use of a watch winder is very useful, because you only can wear one watch. The other watches stop and lose their energy. As a watch enthusiast, you may want to change the watch you wear every day. It will save you a lot of time and hassle when you use a watch winder.
There are all kinds of watch winders. Most models work the same. The differences are mainly in the capacity, design, motors and functionality. There are watch winders for winding one automatic watch, but also for two, three, four, six, eight, twelve or even sixteen automatic watches. Exceptions for 20 or 24 automatic watches are also available, which are for the real watch collector. You must therefore carefully determine before purchase how many automatic watches you have and which of them you want to wind in a watch winder.
The design is also important. After all, a watch winder is an accessory that you have to put down somewhere. The most common places are the bedroom, living room and office. So you also have to determine which design you find attractive and which fits well with your interior. Of course you also have to have room for a watch winder, especially if it has a larger capacity and is therefore larger in size. Most models are available in different colours. This allows you to choose exactly the color that appeals to you and fits within your interior. Or choose a model that matches the color (dial) of your automatic watches.
The type of motor plays a major role in terms of durability and price of a watch winder. The motor is the heart of this watch accessory and is very important. After all, the motor turns the watch around. It is important that this rotation occurs smoothly and with a low noise level. If the quality of the motor is higher this rotation will be very smooth and the noise level will be very low. You can therefore recognize a good watch winder by these properties, especially in the longer term, a qualitative watch winder distinguishes itself from one that is not so good. However, a good watch winder also has a price. Think, for example, of the Bernard Favre and Swiss Kubik models from Switzerland. But there are also brands that produce very good models that you will enjoy for years to come. A good example is Benson. This Dutch brand has been one of the larger players in the field of this watch accessory since 2016 and produces high-quality watch accessories for very attractive prices.
The last element is the functionality. Most watch winders are suitable for winding any automatic watch. However, not all models offer extensive functionality so that you can set each automatic watch individually to its needs in order to obtain energy. This distinguishes a good watch winder from the rest. As a watch enthusiast you probably have watches from different brands. As a result, the needs of the automatic watches differ in terms of direction of rotation and TPD (turns per day) in order to obtain good energy. We advise you to choose a watch winder where you can set each automatic watch individually in terms of rotation direction and TPD. This allows you to easily wind any brand or type of automatic watch.
In terms of functionality, you can also think of nice extras such as LED lighting, extra storage space or a door with which the watch winder can be closed. These functionalities are not primarily aimed at winding automatic watches, but are very handy and nice to have. Think, for example, of flexible watch holders so that your watches can be placed properly in the watch winder, or of the option to have the watch winder work on batteries. This is especially useful if you like to place this watch accessory in a safe. Then the automatic watches are safe and at the same time they are neatly supplied with energy.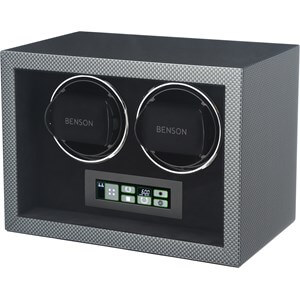 Do you have one or more automatic watches? Then the use of a watch winder is always recommended. The advantages of this watch accessory are many. In addition, it is of course very nice to see your automatic watches rotating in a beautiful case. After all, the eye also wants something.
We can call ourselves specialists in the field of watch winders. With more than 16 years of experience and as an official dealer of more than 12 brands, we know these watch accessories inside out. We have selected our brands for quality, durability and functionality. In our webshop you will find various brands in different price ranges. In our webshop you can buy quickly and safely with your credit card, iDeal, Paypal or regular bank transfer. We ship with Fedex, DPD and PostNL. We have most watch winders in stock and available immediately. In any other case, we can deliver quickly through our direct contacts with brands and suppliers.
Do you have a question about this article or about a specific watch winder? We are happy to help you with clear advice.