Heisse & Söhne Collector 70019-134.10.130 watch winde
Posted on 10 June 2022 at 3:47 PM
A watch winder certainly offers the collector of automatic watches the functionality that is indispensable when you own a number of automatic watches. With a watch winder of the right caliber, you ensure that your automatic watches are supplied with energy when they are not being worn. This prevents an automatic watch from coming to a standstill. Standstill of an automatic watch is highly undesirable. This can cause inaccuracies in the time display and it is also annoying when you have to set everything up again and again. Think of the time display, any GMT function, moon phase and date. In addition, a watch winder also ensures that a correct oil distribution takes place within the timepiece of the watch.
In short, a watch winder is an absolute must when you collect automatic watches. In addition, a beautiful watch winder offers a display and storage option for your watches. Quality watch winders often pay a lot of attention to the appearance of the different designs. When you choose a watch winder from a renowned brand, you do not only choose high quality and technical refinement, but also class and style.
In the field of watch winders with a beautiful appearance, the German brand Heisse & Söhne is an example of a brand that really stands out. The watch winders of this special brand are manufactured with the greatest care and attention to detail and finish. Especially the models that are suitable for winding multiple automatic watches consist of beautiful wooden cases made in Germany. In addition to the high-quality models for the real collector, Heisse & Söhne also offers smaller models with the capacity to wind 1 or 2 automatic watches. Here too, the sense of style and a sublime finish are striking and these watch winders are characterized by their luxurious appearance.
Heisse & Söhne therefore only chooses to use the best materials. Heisse & Söhne is also a progressive brand in the field of technology. For example, the brand uses Japanese motors of exceptionally high quality. These motors are known for being very reliable, energy efficient and also quiet. This last feature ensures that you can also place your watch winder somewhere without any worries where disturbing noises are undesirable. For example, you can think of the bedroom or your office. The motors of Heisse & Söhne also ensure that the models are suitable for winding all types and brands of automatic watches. In addition to watch winders, this exceptional brand also offers watch winder safes. These meet the highest European requirements. With this you can store your watches with an optimal feeling of safety.
An example of a beautiful watch winder from the Heisse & Söhne collection suitable for the avid collector is the Heisse & Söhne Collector 70019-134.10.130. This watch winder is suitable for winding up to 16 watches at the same time. The watch winder is made in a combination of black, wood color and metal, which gives a beautiful and contrasting effect. The inside of this model is black in color and inlaid with a special soft fabric. This ensures that your watches are not damaged when you place them in the watch winder. Furthermore, the watch winder is equipped with a mineral glass door. This ensures that you can close this watch accessory, so that your watches are not affected by moisture, dust and condensation, for example. However, you can always view your watches well, even during the winding process. In addition, the watch winder also offers built-in LED lighting, which makes the view of your watches even better. You can use this to put your watches in the spotlight if you wish.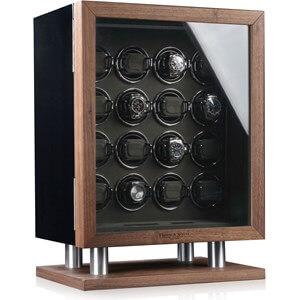 The Heisse & Söhne Collector 70019-134.10.130 is equipped with the aforementioned Japanese motors. In addition, the watch winder is programmable and it is possible to set each rotor separately. For example, you can separately set the direction of rotation and the number of rotations per day for each of the 16 watches. Setting is done with the help of the modern LCD screen. You can use the CW, CC and Alt programs with this watch winder. In addition, this model naturally offers overwind protection. Heisse & Söhne has also provided a sleep mode function with this model. This ensures that you can give your watches some rest, by keeping them just below the optimal level of excitement.
We offer various beautiful watch winders from the Heisse & Söhne collection in our webshop, including the Heisse & Söhne Collector 70019-134.10.130. When you order this from us, you will receive it with a 2-year warranty and a clear manual. A Heisse & Söhne watch winder is always extensively tested after production on the basis of a checklist. So you can be sure that you will receive a perfectly working watch winder. Check out the options in our webshop now and choose the best for your collection of automatic watches!