Benson Swiss Series Four 4.20 Red Leather watch winder
Posted on 23 February 2021 at 2:58 PM
You have a wonderful collection of automatic watches, for example from watch brands such as Rolex, Breiling, IWC and Lange & Söhne, and you prefer not to have your watches stand still with all the negative consequences that entails. Then you choose a watch winder of impeccable quality. A watch winder that offers everything you need, but a little more. A copy that is made of the best materials and has durable and almost silent Swiss motors. In addition, the watch winder must look fantastic. If you take all these aspects into account, you automatically end up with a Benson Swiss Series watch winder.
The Dutch brand Benson has years of experience in the production of high-quality watch winders. At the beginning of this year, the brand presented its latest series, the Swiss Series. The Benson Swiss Series watch winders form the most luxurious line and offer everything you need to wind any automatic watch in luxury and style. Only the best materials have been used in production. These luxury watch accessories are assembled by hand in the Netherlands, guaranteeing quality and durability.
Every Benson Swiss Series watch winder is equipped with a motor that is made in Switzerland and has therefore the Swiss Made label. The motor is the heart of the watch winder and is extremely important for the rotation of the automatic watches. Each watch holder is equipped with its own motor, so that each automatic watch is rotated by its own motor. This offers many advantages, but the main advantage is that each watch is individually adjustable in terms of direction of rotation and number of revolutions per day. This allows you, for example, to set one watch clockwise at 650 rotations per day, while the watch next to it rotates counter-clockwise at 850 rotations per day. This gives you optimal flexibility because one automatic watch has different winding requirements than another automatic watch.
In addition to this important advantage, the Swiss made motors have another important advantage, namely that these motors have a very low sound level, so you hardly hear them when they rotate. In addition, these Swiss motors are of very good quality, which means they normally last longer than other motors. Sustainability is therefore another aspect that plays a major role.
The control panel of the Benson Swiss Series watch winders is located at the back where each watch is set by means of one button and one LCD screen. The watch winder has 9 pre-programmed programs so that you can quickly and safely provide any automatic watch with energy. With the supplied manual, you simply select the desired turning program with a few clicks of a button. Then the watch winder will turn and you don't have to worry about it anymore.
When we look at the materials of these watch winders, we see wood, leather, glass and soft fabric. Each model has a glass front that can be opened easily. The automatic watches are well protected by means of this glass. The inside of the watch winders is provided with a soft black fabric so that the watches cannot get scratches or the like. The watch holder is adjustable and suitable for both larger and smaller watches. It does not matter whether you want to place a large men's watch or a small ladies watch in the watch winder. In terms of technology, the Benson Swiss Series watch winders offer everything you need and more. The special decoupling system that disconnects the motor from the watch holder when you take out or place a watch is a big advantage. With any other watch winder, stress or friction will occur when the rotor turns and you remove or insert the watch. You are going against the rotation of the automatic watch. This can even lead to malfunctions. This is impossible with the Benson Swiss Series watch winders. The moment the watch holder is held still (if you want to take out a watch or place it in the watch winder) the motor disconnects itself from the watch holder. This keeps the technology intact and there is no stress or friction for the engine. This is not only useful during use, but also for the preservation of the watch winder.
We want to highlight a special model from this collection. That is the Benson Swiss Series Four 4.20 Red Leather watch winder. This model is suitable for winding 4 automatic watches. The outside has beautiful red leather in a "padded" pattern for an extra luxurious look. The watch winder is 45cm wide, 15cm deep and 15cm high, making it very compact as a whole. The watch holders on which you place the watches are beautifully finished with chrome rings. The glass front protects the automatic watches placed in the watch winder. This watch winder works on mains power via the supplied adapter. This adapter is suitable for use in the EU, UK, US and Asia.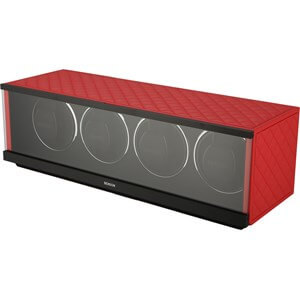 This Benson Swiss Series Four 4.20 Red Leather watch winder is produced in a limited edition of 250 pieces. The number is engraved on a metal plate. This gives you a very exclusive watch winder. But it does not stop here, because Benson supplies this generation of Swiss Series with a beautiful packaging that refers to the Swiss technology inside the watch winder. In addition, a handy manual and a certificate are included.
If you want the best for your automatic watches, choose a Benson Swiss Series watch winder. If red is not your color, there is plenty of choice from other models, for example in black, carbon fiber, brown, green, blue and white. You can opt for a watch winder made of wood or with a leather finish. If you want to wind less than 4 watches, the collection also has models for winding 1, 2 or 3 automatic watches.
We are official dealer of Benson Watchwinders. We offer you the most current collections, clear service and almost all watch winders are available from stock. The Benson Swiss Series watch winders come with a 3-year international warranty and are always shipped registered and insured. Take a quick look at this collection of fantastic watch winders and you may soon wind up your automatic watches in one of the best watch winders!