Paul Design Gentlemen 4+6 Black Shadow watch winder
Posted on 28 February 2021 at 8:48 AM
One of our most favorite watch winders is this Paul Design Gentlemen 4+6 watch winder in black shadow version. Why? Simply because this watch winder actually has everything you need to wind 4 automatic watches safely and professionally. This model has been on the market for several years and has an excellent reputation. The customers who have bought one are very satisfied. We particularly like the beautiful design in combination with the handy functionalities so that you can wind any automatic watch, regardless of watch brand or model. It does not matter whether you place a watch from IWC, Seiko, Oris, Longines or Omega in the watch winder, this watch winder ensures an optimal energy supply for each watch.
In this article we take a closer look at this Paul Design Gentlemen 4+6 Black Shadow watch winder. As a lover or collector of automatic watches, a watch winder is an absolute must have. An automatic watch does not work with a battery, but with the help of the natural movement of the wrist. Or, if the watch is not worn by the movement that a watch winder provides. Now a watch winder is certainly indispensable for the collector. After all, you can't wear all your watches at the same time. A watch winder is not only functional, but also fulfills a different role for most enthusiasts. Just like the watch itself, a watch winder is also a status symbol for many men. In addition, a watch winder also serves as a clear and safe storage place for your watches and as a display. When we look at those last functions of the watch winder, it becomes clear that a watch winder generally does not only provide the energy supply function for watches. In addition, the design and appearance and the associated use of materials is also an important aspect.
There is a lot of choice when it comes to watch winders. There are various brands, each with their own advantages and disadvantages. Of course, a difference in quality is also an important aspect. Yet it does not always have to be that you compromise on the quality of a watch winder when you purchase it for a competitive price. You just need to know where to look. An example of a beautiful brand of watch winders that delivers absolute quality and at the same time remains affordable is Paul Design. This brand originates from the United Kingdom. Quality, appearance and a perfect finish are of paramount importance to this brand.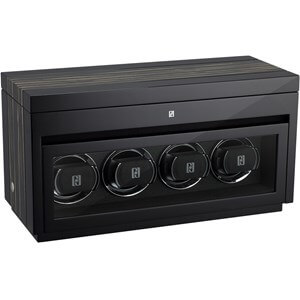 Within the Paul Design collection, we see different series of watch winders. Characteristic of every Paul Design watch winder is the eye for detail and the sublime finish, the top quality, luxurious appearance and attractive price. Each watch winder from Paul Design is also equipped with high-quality Japanese motors. These motors are known for being energy-efficient in use and, moreover, to do their work almost silently. This means that you will not be disturbed by annoying noises during the winding process. This means that you can also place your watch winder in your living room, office or bedroom without irritation.
Paul Design's collection includes the Paul Design Gentlemen 4+6 Black Shadow watch winder. This specific watch winder offers space for winding 4 watches and also has storage space for 6 extra watches. Of course you can also use this storage space for storing any other jewelry or, for example, cufflinks. This way you can easily and conveniently keep all your jewelry together.
This watch winder can be operated via a modern touchscreen, with which you can easily set the direction of rotation and the number of rotations per day for each rotor individually. This means that for each automatic watch you specifically create the best possible conditions for optimal arousal. The Paul Design Gentlemen 4+6 Black Shadow is therefore suitable for any automatic watch, regardless of the brand or type of watch. This watch winder comes in the color black shadow, a slightly darker wood with grain. The inside of the watch winder has the color black. Of course, only high-quality materials have been used to manufacture this watch winder, such as wood and glass.
In a technical sense, this special watch winder also knows how to surprise, in a positive sense. Not only do you have a touchscreen screen with this watch winder, the watch winder is also equipped with built-in LED lighting. With this you always have a perfect view of your watches, even during winding. You can set the watch winder in terms of direction of rotation and the number of revolutions per day. We call this TPD; turns per day. The watch winder can rotate clockwise, counter-clockwise and alternately. Thanks to this combination of direction of rotation and number of revolutions per day, you can set each watch completely to your liking.
In short, with the Paul Design Gentlemen 4+6 Black Shadow watch winder you definitely have a very complete watch winder that also makes your beautiful watches stand out extra well. The beautiful design fits in almost any interior and will also be a nice addition to your collection of automatic watches. With the luxurious finish and top quality engines and the good price/quality ratio you always make a good choice with Paul Design! It is not for nothing that Paul Design knows how to compete with the larger watch winder brands like no other. After all, you really have to come from a good family for that.
Watchwinders.nl is official dealer of Paul Design. We are the only official dealer in the Netherlands and have almost the entire collection in stock and available immediately. Every Paul Design watch winder comes with a minimum of 2 years warranty, luxury packaging and manual. Of course we can advise you without obligation and help you choose a suitable watch winder. With more than 15 years of experience in the field of watch winders, we are happy to help you further.
Quickly view the current collection Paul Design watch winders.