Benson Black Series 2.16.WA Limited Edition watch winder
Posted on 5 March 2021 at 3:11 PM
You purchase a watch winder to preserve your automatic watches, in essence it is an absolutely indispensable accessory when you own automatic watches. Not only does a watch winder wind your watches when you don't have them on your wrist, but they also keep the oil nicely distributed inside the movement of your watches. In addition, you can use a watch winder as a nice storage system for your watches and even as a display if desired. After all, your watches will look extra beautiful in a nicewatch winder. Watch winders come in all shapes and sizes. But also in various price ranges and quality levels. When you really care about your watches, choose a quality watch winder. However, this certainly does not mean that you have to pay the top prize. A brand like the Dutch Benson supplies watch winders of extremely high quality at an attractive price, so it is certainly worth putting this special brand in the spotlight.
Benson may be a relatively young brand, but it is now one of the top level brands available. The price/quality ratio of the watch winders from Benson is very good. The brand is also known for the reliability and durability of its products. In addition, the watch winders from Benson are equipped with the most modern technology and different models from the collection offer various extras. The finish of the Benson watch winders is sublime, which is high on Benson's priority list. You will be amazed at all the details and functions that these handmade watch winders have. Benson has recently launched several new models of watch winders. These are new models of the Smart-Tech II series, the new generation Black Series and the Swiss Series (which have Swiss made motors).
The Benson Black Series collection includes the Benson Black Series 2.16 WA Limited Edition watch winder. The fact that this is a Limited Edition makes this watch winder extra special and popular. There are only 250 pieces of this watch winder available worldwide, which are individually numbered. With this Black Series watch winder you really have a unique piece in your hands. It is made in walnut style, which gives the watch winder a chic look. The finish is perfect as we are used to from Benson. This can be seen, for example, in the 12 layers of paint and the extra protective layer with which the watch winder is treated. The fabric inside (soft velvet) ensures that your watches are optimally protected against possible damage. Because the watch winder can be closed with a glass door, you also keep dust, dirt and condensation out. The watch winder is equipped with flexible watch holders, so that almost any watch will fit effortlessly in the watch winder. This watch winder offers the possibility to wind 2 watches at the same time and also has extra storage options for another 3 watches, or of course any other jewelry.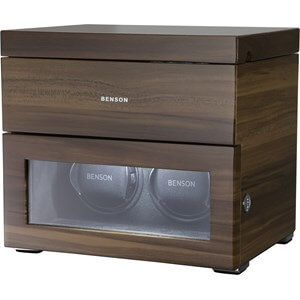 The Benson Black Series 2.16.WA Limited Edition watch winder is equipped with top quality Japanese motors. These are not only energy efficient, but will also not disturb you with annoying noises during the winding process. These engines are known for working almost silently. You can therefore also place the watch winder very well in, for example, your workplace or the bedroom. Furthermore, the watch winder is equipped with a modern touchscreen, with which you can set each rotor individually. You can choose the direction of rotation and number of rotations per day and adjust the watch winder perfectly to what your watches need. Furthermore, the watch winder has a soft close lid and the programs CW, CC and Alt. In addition to overwinding protection, this watch winder allows you to provide your watches with the required energy in a short time using the speed winding function. This watch winder works with an adapter and has a USB port. What can also be seen as a clear plus is that the watch winder is equipped with built-in LED lighting. With this you can view your watches at any time of the day or of course show them to someone else!
When you decide to order the Benson Black Series 2.16.WA Limited Edition watch winder from us, you can do so with peace of mind and confidence. As an official dealer of Benson, we can provide you with appropriate advice if desired. We send every watch winder insured and registered and we ensure that your watch winder is shipped securely packed. This way you can be sure that you will receive your watch winder neatly and neatly at home. This specific watch winder comes with a 2-year warranty and clear manual. The adapter is also included and the watch winder is provided with a certificate. If you have any questions, don't hesitate to ask! With more than 15 years of experience in the field of watch winders, we will certainly be able to serve you.