Bernard Favre Planet watch winder, high end watch accessory
Posted on 12 March 2021 at 8:02 AM
In our collection we have different brands with their own design, technology and price range. We have a few brands that are among the absolute best when it comes to the winding of automatic watches. High end brands that do everything they can to energize an automatic watch in style and luxury. A watch winder that you buy if you have a very nice collection of watches.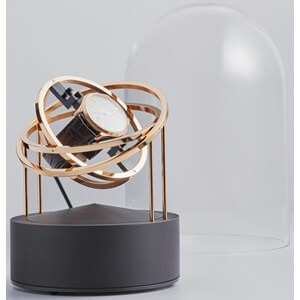 Are you looking for an exclusive watch winder with a unique look for winding your automatic watch? Then you should especially read this article. We highlight a special watch winder brand and specific watch winder. An exceptional watch winder is not only characterized by sublime quality, technology and reliability. If you really want a unique model, the look and design of the watch winder is also important. There are several brands on the market that excel in this area. They attach just as much importance to the design of the watch winder as to the quality and innovation in the field of technology. Of course it depends on your personal taste what kind of design appeals to you. In this article we write about a watch winder brand that will appeal to most watch enthusiasts. Because of the luxurious and chic design and also the special way in which automatic watches are wound. The watch winders of this quality brand have a clear own face, so the design is very recognizable. We are talking about the high quality watch winders from the Swiss brand Bernard Favre.
Bernard Favre offers watch winders equipped with the so-called Planet Winding System. This system provides the necessary movement for automatic watches, because the watch rotates on its own axis when placed in the watch winder. This is a link to the rotation of a planet, hence the special name for this beautiful system. Any fan of automatic watches will find this a fascinating sight. Each Bernard Favre watch winder will be an eye-catcher in any interior and immediately let everyone's eyes focus on your watch. Bernard Favre's watch winders are also equipped with Swiss motors, which in this area can be labeled as the best of the best. The Swiss made motors are not only energy-efficient and low-noise, but also very reliable and durable and therefore form a solid basis for Bernard Favre's watch winders. This means you will always be able to count on your watch winder!
Within the large collection with different models from Bernard Favre we find the Bernard Favre Planet Gold watch winder, this high end watch winder is suitable for a single automatic watch. This watch winder has a black base and gold-colored rings. The watch winder is made of stainless steel and the special glass bell jar can be placed over the watch winder. This offers extra protection against dirt, dust and moisture and also gives the watch winder an extra chic look. The watch winder is compact in size and works on a built-in battery (100 days). The combination of these two properties makes it easy to take the watch winder with you on a trip or, for example, to the office. In addition, it is possible to place the watch winder in a safe, so that both the watch winder itself and your watch are optimally protected. The watch winder can rotate clockwise, anti-clockwise and alternately and has an overwind protection. The Bernard Favre Planet Gold watch winder is also easily programmable. In addition, this watch winder is equipped with a USB connection, making it easy to charge the battery via PC, smartphone or mains power. Your watch winder is always ready for use in this way! So you no longer have to worry about your watch standing still.
With Bernard Favre watch winder you can be sure that you are choosing a piece of craftsmanship. Every Bernard Favre watch winder is made by hand with the greatest possible care and precision. The eye for detail, finish and quality are very important here. In addition, every watch winder is tested for several days before it is delivered. This is how Bernard Favre guarantees the quality of their products at all times. Originality and remaining unique are also important to Bernard Favre. The annual production is therefore relatively small, so you get something special with a watch winder from Bernard Favre. If you are a lover of beautiful automatic watches, for example from Breitling, Rolex, IWC or Tag Heuer, then a suitable luxury watch winder should not be missing.
When you choose to order the Bernard Favre Planet Gold watch winder, or of course one of the other beautiful models from the collection, you will receive it with a 2-year international warranty. So you can be sure that you will enjoy your new watch winder for a long time, but we have every confidence in that with a watch winder of this quality. In addition, you will of course receive a clear manual so that you can immediately get started with your new purchase. The watch winder comes with a particularly beautiful leather case and we ensure that your package comes to you securely packed and insured.
If there are any questions about the Bernard Favre collection, or if you would like advice from us, we are very happy to be of service as an official dealer of Bernard Favre. Still in doubt? Watch the video of the Bernard Favre watch winder in our webshop, you will definitely tack. Any watch enthusiast will certainly be charmed by this fascinating mode of watch winding.