Heisse und Sohne Collector 70019-133.10.130 watch winder
Posted on 19 March 2021 at 3:13 PM
Are you an avid collector of automatic watches? And looking for a good watch winder? Then this article is interesting for you! When you, as a collector of automatic watches, look for a suitable watch winder, you naturally want the very best for your watches. Since there is a lot on the market it can sometimes be quite a search for the watch winder that meets your requirements. Of course, quality comes first, but in addition, every collector in a watch winder will also be looking for a safe storage place for his watches. After all, you want a nice place to present your collection and a safe place to store it. A watch collector has several watches and you probably have a few favorite watches and you are also careful with the other watches in your collection. That is why in this article we will discuss a watch winder with a larger capacity that is suitable for winding a larger number of automatic watches.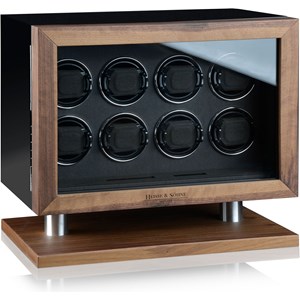 In addition to the well-known Switzerland, Germany also offers extremely high quality when it comes to watch winders. Watch winders from Germany are generally reliable, solid and durable. In addition, a German watch winder does not have to be enormously expensive. A special German watch winder brand that is definitely worth a look is Heisse & Söhne. Heisse & Söhne offers very high quality watch winders with a very luxurious look. In addition, there are several beautiful watch winders within the Heisse & Söhne collection that are suitable for the real collector, because they have a large capacity. The Heisse & Söhne watch winders use high quality Japanese motors. These are known for not only being energy efficient, but also very quiet in use. In addition to watch winders, Heisse & Söhne also offers watch winder safes. These safes meet the highest European standards. This means you are assured of optimal protection for your watch collection. An advantage of the watch winders of this brand is that each rotor of the watch winder can be adjusted separately, so that you can wind every watch from your collection in the most efficient and gentle way. It does not matter whether your watch collection has watches from IWC, Rolex, Oris, Tag Heuer, Seiko or Maurice Lacroix. In a good watch winder they are all safely and professionally supplied with energy, making them immediately ready to wear.
The Heisse & Söhne watch winder collection includes the Heisse & Söhne Collector 70019-133.10.130 watch winder. This specific watch winder is suitable for winding up to 8 automatic watches. The wooden exterior in combination with the classic design give this watch winder a very luxurious look. The cabinet with door protects your watches against external influences such as dirt, dust and moisture. With the modern touchscreen you can easily set the number of rotations per day and the direction of rotation. The rotors are individually adjustable, allowing you to create the most optimal conditions for each watch. This watch winder can rotate clockwise, counter-clockwise and alternately. In addition to wind protection, the watch winder is also equipped with a sleep mode. With this sleep mode you keep your watches just below the optimal level of excitement, giving them the necessary rest.
With the Heisse & Söhne Collector 70019-133.10.130 watch winder you not only offer your watches a way to get the required energy. The watch winder is also a beautiful and safe storage place for your watches. If you want to be able to view your watches at any time of the day, this watch winder is also ideal. Thanks to the built-in LED lighting, you always have a good view of your watches, even during the winding process. This special Heisse & Söhne watch winder also functions as a particularly beautiful display to show off your watches. This watch winder will be a real eye-catcher in any interior. This design that combines wood with black in style is suitable for both a classic and a more modern interior and will therefore appeal to a wide audience.
In addition to quality in combination with style and luxurious designs, Heisse & Söhne offers the watch winders from the collection at attractive prices. The price/quality ratio of the watch winders from Heisse & Söhne is therefore without a doubt very good. With the Heisse & Söhne Collector 70019-133.10.130 watch winder you get a watch winder that scores very well in various aspects. Both in terms of quality and capacity, but also in terms of appearance and price. With this watch winder you can also be sure that your watches are always supplied with the required energy and therefore do not come to a standstill. Moreover, you offer your watches optimal protection by placing them in this watch winder. This prevents unnecessary wear, damage and annoying inaccuracies in time and date display.
Quality is at the top of Heisse & Söhne's priority list. Every Heisse & Söhne watch winder is therefore produced with the utmost care and precision. In addition, each watch winder is carefully checked again on the basis of a checklist before it is delivered. When you decide to order this watch winder, you can also be sure that it will arrive safely to you. We ensure that it is packed securely on the way and also ship all Heisse & Söhne watch winders insured and with a 2-year warranty. Of course you will receive a clear manual together with your watch winder, so that you can get started right away.
Watchwinders.com is official dealer of Heisse & Söhne watch winder. This means that we have been working with this German brand for over 15 years. We guarantee authenticity, quality, service and good advice. The latter is very important because you want the best for your automatic watches, don't you?