Swiss Kubik Startbox Black watch winder
Posted on 26 March 2021 at 12:35 PM
With a high-quality watch winder you are assured of perfect winding of your automatic watch. When you are not wearing your automatic watch, the watch winder will take over the natural movement of the wrist and thus provide the necessary energy for your watch. This way you can be sure that your watch will not come to a standstill. This also prevents inaccuracies in time and date display, among other things.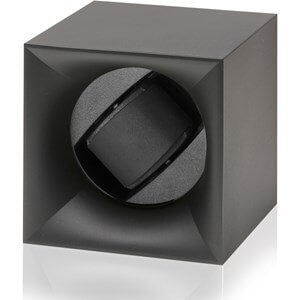 When it comes to watch winders, there is a choice of various brands, designs and types of watch winders. But how do you know which watch winder to buy? Which type of watch winder is suitable for you and what should you not buy?
In this article we focus specifically on the enthusiast who is looking for a high-quality watch winder, with the option to wind 1 automatic watch. We will be highlighting a watch winder that supplies every automatic watch, regardless of brand or model, with energy in a very efficient way. But a watch winder without all kinds of bells and whistles. This makes this specific model suitable for anyone looking for quality and efficiency, without having to pay the high price.
Swiss Kubik is a Swiss watch winder brand that produces its watch winders in Geneva. Most watch enthusiasts have heard of this brand or seen it in a magazine or at a jeweler. Swiss Kubik has been able to keep the standard high for years and has therefore become a true concept in this field. The Swiss made technology and quality in this area are unparalleled. With a Swiss made watch winder you can be sure that your watch will be wound effectively and reliably for years. As an official dealer of this Swiss brand, we have been selling these watch winders to our full satisfaction for over 10 years. The brand excels in sustainability and good after sales.
Within the Swiss Kubik collection you can find watch winders with various capacities. In other words watch winders that are suitable for winding 1, 2, 3, 4, 6 and even 8 automatic watches. This means that both the enthusiast with a 1 watch and the real collector can go here. Swiss Kubik offers watch winders that are suitable for all types of automatic watches and also in all kinds of capacities.
Characteristic of the Swiss Kubik watch winders are the compact and sleek design and the perfect finish. A good example and one of the most popular models at the moment is the Swiss Kubik Startbox Black watch winder. This model is suitable for winding one watch and is one of the entry-level models from the Startbox collection. With these models, the brand offers everything you basically need and at the same time keeps it affordable.
The Swiss Kubik Startbox Black watch winder is, as the name suggests, in the color black. The combination of the black plastic exterior of this watch winder with the sleek design makes it very suitable for a modern interior. Moreover, due to the compact design, every enthusiast will easily find a place for this highly functional and effective watch winder.
The Swiss Kubik Startbox watch winders are available in various vibrant colors such as red, orange, gray and blue. This means that a Swiss Kubik Startbox is available for every personal taste. The Swiss Kubik Startbox is equipped with a Swiss motor, which means that the watch winder has a very reliable and stable base. Swiss motors are not only known for their very high quality. In addition, they are able to perform their work almost silently and they are energy-efficient in use. The watch winder is of course equipped with an overwind protection.
As far as the material is concerned, polyamide has been chosen for this watch winder. This is a type of plastic. The watch winder works on batteries and works for no less than 2-3 years on a set of AA batteries, so you can place the watch winder anywhere. It is therefore very possible to take this watch winder with you on a trip or to the office. But placing it in a safe is also a very good option. This way you are assured of optimal protection for both your watch and your watch winder. The Swiss Kubik Startbox Black is suitable for any type and brand of automatic watch and rotates both clockwise and counter-clockwise.
If you have a smaller watch, smaller watch holders are optionally also available from Swiss Kubik. At Swiss Kubik it is also possible to optionally order protective glasses and an adapter if desired. The protective glasses ensure that your watch is protected against external influences. Consider, for example, condensation, dust and dirt or curious children's hands. So you can make your watch winder as complete as you want with these extra options! The protective glasses are only available for the Masterbox models. This option is not available for the Startbox models
In short, with the Swiss Kubik Startbox Black watch winder you choose a high quality watch winder that has everything that your watch needs, without all kinds of bells and whistles. You are thus assured of a watch winder that you will enjoy for years to come. Because Swiss Kubik itself also has a lot of confidence in the quality of their products, you get a 3-year warranty when you purchase this watch winder. Of course you will also receive a clear manual with your watch winder, so that you can start using it immediately. So don't wait any longer and choose the best for your automatic watch!