Bernard Favre Planet watch winder
Posted on 16 August 2019 at 10:51 AM
Bernard Favre is a very strong brand in the field of watch winders. The watch winders of this brand are "Swiss made" and equipped with a Swiss motor. This fact guarantees reliability, durability and quality. In addition to the excellent Swiss quality, Bernard Favre knows how to distinguish itself from other watch winder brands through its unique way of winding up automatic watches. This system is the "Planet winding system". Bernard Favre's three-dimensional watch winders revolve around their own axis, as if it were like a planet. Hence the extremely suitable name. The elegant way of winding will certainly be appreciated by watch lovers and collectors, as it is fascinating to look at and also very functional. The Bernard Favre watch winders are one of our favorites!
The production of the exclusive Bernard Favre watch winders focuses on technical perfection, quality and a sublime finish. The brand strives everytime again for a perfect watch winder which ensures years of perfect winding. Only the best materials are used, such as stainless steel and glass. The glass bell that can be placed over the watch winder offers protection to your watch against external influences, such as moisture and dust.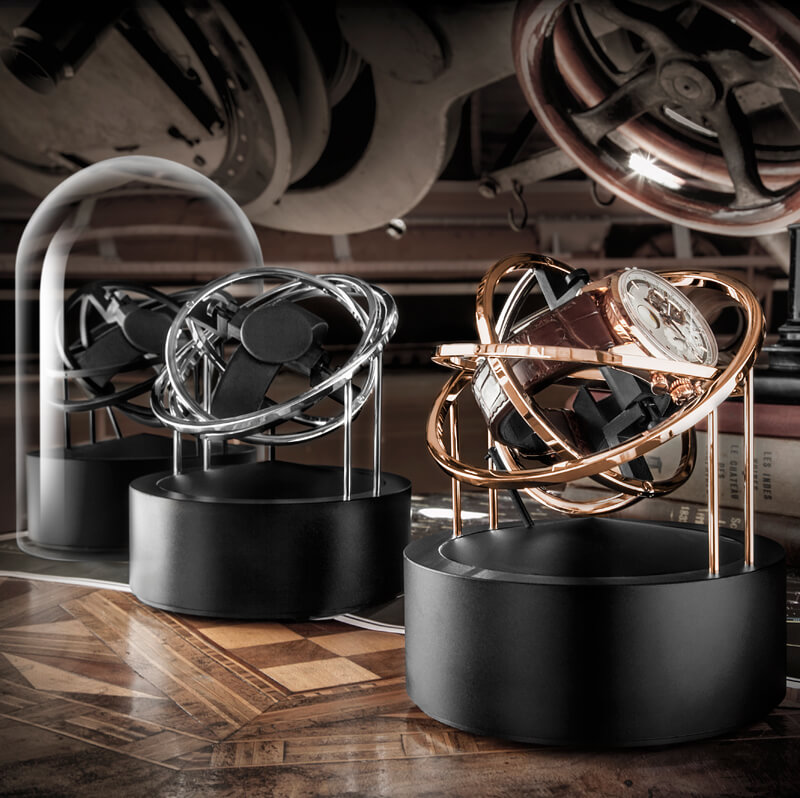 The built-in battery (100 days) in every Bernard Favre watch winder ensures that you can also take your watch winder with you or store it in a safe. Charging is possible via a USB connection using for example your PC or smartphone, or of course via the mains. Furthermore, the watch winder is equipped with an LED indicator and up to six different programs are possible. This high-quality technology is characteristic of this renowned Swiss brand.
As an official dealer, we have almost the entire collection of Bernard Favre watch winders in stock, which means that you can enjoy your purchase quickly. The watch winders come in a chic leather case. An USB adapter, certificate and manual are included. Of course every watch winder has a 2-year factory warranty.