Elma Motion Corona Burlwood watch winder
Posted on 1 September 2020 at 9:04 AM
Elma Motion watch winders are made in Germany. These watch winders from Elma Motion meet the highest quality and are carefully manufactured from the best materials. The beautiful designs are enhanced by the use of beautiful materials such as wood, stainless steel and carbon. The high-quality German motors ensure a safe winding of any type of automatic watch. Each rotor of the Elma Motion watch winders can be individually set to the desired program for your automatic watches. Consider the direction of rotation, but also the number of revolutions per day. The watch holders are flexible and adjustable so that you can wind any type of watch in the watch winder.
The Elma Motion Corona Burlwood watch winder is suitable for winding 2 automatic watches. The German motor is of good quality and is one of the best in the world. The watch winder is brown in color and made of real wood. This gives the watch winder a luxurious look. The design is quite classic and calm. The watch winder works on an adapter and, if desired, on a set of batteries. Via the LCD display you can set the watch winder exactly to your wishes.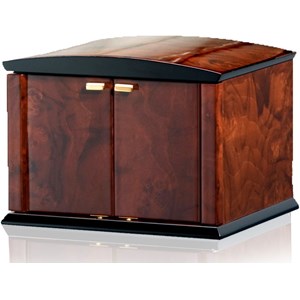 Elma Motion has a very good reputation as a producer of watch winders. The motors of this brand are used by high end brand Buben & Zorweg in watch winders that are considerably more expensive.
The German brand Elma Motion currently no longer produces watch winders (only the technology for Buben & Zorweg). This means that these watch winders are becoming increasingly rare because they are virtually no longer available anywhere. We still have a few pieces in stock with an interesting discount. This gives you the opportunity to buy a high-end watch winder that is completely made in Germany for an attractive price. The discount applies as long as our stock lasts.
Do you want a quality watch winder that you will enjoy for years to come? Take a look at our Elma Motion watch winder collection. We deliver every watch winder from stock. The watch winders come with an adapter, manual and a 2-year warranty.