Bernard Favre Planet Gold watch winder
Posted on 7 September 2020 at 4:12 PM
The high end watch winder brand Bernard Favre produces high quality watch winders for the real watch collector. The watch winders are manufactured in Switzerland, which means that quality and finish are of a very high level. The mode of winding a watch is unique. The Bernard Favre Planet watch winder winds the automatic watch by means of rotation around its own axis. This creates an optical spectacle, because it looks extremely beautiful.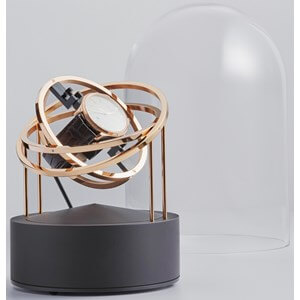 In the collection of this Swiss brand we find the Planet series. This series is characterized by different models, colors and materials. One of the most popular models is the Bernard Favre Planet Gold watch winder. This model is gold colored and therefore fits in almost any interior. The golden color also has a luxurious look.
The Bernard Favre Planet Gold watch winder is suitable for winding one automatic watch and has a Swiss motor. This motor is of fantastic quality and ensures an optimal energy supply. The watch winder is black and gold in color and has 9 programs with which you can literally wind any automatic watch.
The watch winder is made of stainless steel and has a beautiful glass bell jar that you can place over the watch winder for optimal safety. The watch winder works with USB, but you can also charge the built-in battery with which the watch winder can rotate for months. This Bernard Favre Planet Gold watch winder has a USB connection for charging. The watch winder is Swiss made, which means that it was made in Switzerland.
The Bernard Favre Planet watch winders are available in all kinds of colors. You can choose silver, black, orange, green, carbon and blue. This allows you to make an ideal combination with the automatic watch that you want to wind in the watch winder.
Each Bernard Favre watch winder comes with a USB cable/adapter, manual and certificate. The beautiful glass bell jar is of course included. The warranty on this watch winder is 2 years. The watch winder comes in a luxury package in which the watch winder is perfectly protected.
As an official dealer of Bernard Favre, we have almost the entire collection of Bernard Favre watch winders in stock. This allows us to process and deliver your order quickly. Each watch winder is extensively tested before delivery, well packaged and then shipped via Fedex, DPD or PostNL.
Are you looking for a beautiful high end watch winder that is completely made in Switzerland and therefore meets the highest quality standards? Then a Bernard Favre Planet watch winder is an excellent choice!