New Benson Compact watch winders
Posted on 18 September 2020 at 12:02 PM
In 2017, the Dutch watch winder brand Benson launched its popular Compact collection. This collection of watch winders consists of different watch winders for 1 watch where the compact design and attractive price stand out. The reliable Japanese motor and the modern operating system make these Benson Compact watch winders very interesting for the watch enthusiast who owns one or two automatic watches.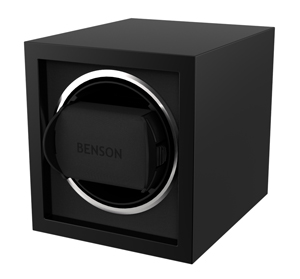 Within a few months, Benson will expand the Compact series with a few new models for winding one, two and three automatic watches. These new Compact models are based on the current Compact watch winders but have been optically changed.
Benson Compact watch winder
The Benson Compact models are slightly different in appearance from the current Compact watch winders. They have a wooden exterior and a luxurious metal ring around the watch holder. This gives the watch winder a more chic and stylish look. Naturally, this watch winder is also equipped with a good Japanese motor and the watch winder works via mains power (with the supplied adapter) and batteries. The watch holder is suitable for any watch because it is flexible. Click the holder with the watch on it in the watch winder so that the watch can never fall out.
The operation of these Benson Compact watch winders is simple. You set the watch winder quickly and easily to the desired direction of rotation and the number of revolutions so that your watch is properly wound. This makes this generation, just like the current models, suitable for winding any type of automatic watch.
Various models and colors
The current Benson Compact watch winders for 1 watch are available in black leather, dark brown leather, light brown leather, blue leather and carbon leather. The new Benson Compact watch winders are made of wood and available in black, white, carbon and walnut. You can also opt for a chrome or gold-colored ring. This ring gives the watch winder a luxurious look.
Each watch winder is neatly packed in a box with adapter and a 2-year warranty. Of course, the manual is included. The official retail price is set at 199.00 euros (incl. 21 VAT). We expect this new generation of watch winders to be available at the beginning of 2021.
Of course, a pre-order option will be offered before the sale officially starts. Keep an eye on our website to see which attractive extra the pre-order offers.