Heisse and Sohne Watch Meranto watch winders
Posted on 22 January 2021 at 1:58 PM
Watch winders come in all shapes and sizes. There are watch winders on the market that are suitable for 1 watch, but also watch winders that can wind a whole collection of automatic watches. There are also many different watch winders available in the field of design and use of materials. For example, do you go for a classic and stylish design? Or does your watch or collection of watches fit better in a modern and sleek watch winder? Of course there are also enthusiasts who mainly go for a functional model and do not set such high standards with regard to the appearance of the watch winder. In addition, in terms of price and associated quality, you can also choose from many brands and types of watch winders. Today we will highlight a special and reliable German brand in the field of the watch winder, which has established its name with a luxurious and stylish design and also an extremely high quality; Heisse & Söhne watch winders.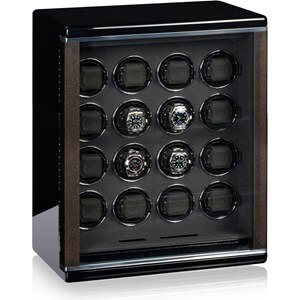 In this article we write about the interesting watch winder brand Heisse & Söhne. As mentioned, Heisse & Söhne is a well-known brand in the field of watch winders and the enthusiast and collector of automatic watches will certainly not be unknown. Quality and workmanship are very high on the priority list at Heisse & Söhne and that is certainly evident in the end product. Each watch winder is first fully checked against a checklist before it leaves the factory. Heisse & Söhne also strives for the very best when it comes to the technology in the watch winders. The heart of the Heisse & Söhne watch winders is formed by Japanese motors of excellent quality. These motors are known for being very energy efficient and also pleasantly quiet in use. This of course ensures optimal comfort while winding your automatic watches.
In addition to watch winders, Heisse & Söhne also offers watch winder safes, where you can store your watch collection with a safe and familiar feeling. These safes meet the highest European standards, guaranteeing you an optimal safe climate for your beloved watches. This is of course ideal for the collector with a nice collection of watches, after all you don't want to leave the safety of your collection to chance.
When we take a closer look at the collection of Heisse & Söhne watch winders, we see that it is divided into different series of watch winders. The latest series in the Heisse & Söhne collection is the Heisse & Söhne Watch Meranto watch winder series. In this series we find watch winders with an open case, suitable for winding 8 and 16 automatic watches. The beautiful cabinets have, as we are used to from Heisse & Söhne, a modern design and a very luxurious look. These cabinets are made of wood combined with the color black. The fabric lining of the inside of the watch winders is also black and provides a luxurious look. Together with the wooden exterior, this completes the picture. These luxury watch winders also offer beautiful functionalities and a sublime technology. The watch winders are equipped with a modern LCD touchscreen, with which you can easily set the number of rotations per day and the direction of rotation. Because the watch winders are equipped with built-in LED lighting, it is possible to view your watches at any time of the day. This will certainly be a plus for the real enthusiast. Of course, the overwind function is also included. By means of the sleep mode you also keep your watches just below the optimal level of arousal, allowing them some rest.
The Heisse & Söhne Watch Meranto watch winders can therefore be called very complete. Not only do you store your watches in style with this and you provide the necessary energy with the help of these watch winders, it is also a real eye-catcher in the interior and in your watch collection. With a watch winder from Heisse & Söhne you ensure that you wind your watches in style and give them the very best!
The new Heisse & Söhne Watch Meranto watch winders are available in our webshop. We have more than 15 years of experience in the field of watch winders and of course also a lot of knowledge and expertise in-house. We can therefore provide you with appropriate advice and the right service if necessary. When you order a Heisse & Söhne watch winder in our webshop, you will receive it with a minimum of 2 years warranty and a clear manual. You are then assured of a durable, solid and reliable watch winder that you will enjoy for years to come.