New Benson Black Series watch cases
Posted on 29 January 2021 at 3:50 PM
A good watch case is essential for a collection of watches. This watch accessory ensures that your watches are safely together and that you quickly have your favorite watches at hand to wear. A brand that produces excellent watch boxes is Benson. This Dutch brand is well known for its very good watch winders. The Compact, Smart-Tech II and Black Series are watch winder series for the real watch enthusiast. However, the brand also has a nice line of watch boxes. These Benson Black Series watch boxes are made of wood and offer space for 8, 12 or 16 watches.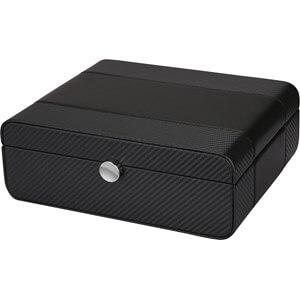 However, the brand has produced a new line of watch boxes and already launched it. These new watch boxes will also be part of the Black Series collection. The new boxes are made of PU leather and are available in 3 capacities; for 3, 8 or 12 watches. Each model is available in black, dark brown, carbon fiber and blue leather. The watch boxes have a modern design and radiate luxury. With a great eye for detail, Benson has created a beautiful collection of watch boxes.
The watch boxes have a modern design and are beautifully finished with special stitching. The watch boxes can be closed with a special lock. Inside are cushions around which you can place a watch. The watch pillows are suitable for all types of watches and offer enough space for larger and smaller watches. The entire tray with watches and pillows can be removed from the watch box and placed in a safe, for example. This is a big advantage because you are flexible and you do not have to place the entire watch box in a safe. Simply lift the tray out of the watch box and place it where you want it.
An important advantage of the new Benson Black Series Leather watch boxes is the price. Benson has succeeded in putting a high-quality watch box on the market very competitively. Retail prices start from 69.00 Euro for the 3-watch model. The watch box for 8 watches costs 119.00 euros and the model for 12 watches costs 169.00 euros.
These are very attractive prices given the quality, the beautiful material and the functionality of these Benson watch boxes. Each watch box comes with a 2-year warranty and certificate. The new Benson Black Series Leather watch boxes are now available in our webshop.